Cheaper-than-Oracle Rimini defiant as Oracle drags 'em back to court
Next phase of IP suit over third-party support to commence in September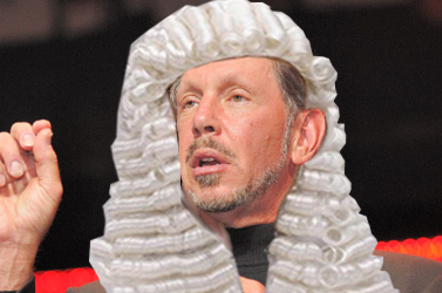 Oracle's long-running copyright case against independent support vendor Rimini Street is set to be heard before a jury in September, the database giant said on Tuesday.
"There are no active settlement discussions between the parties," Larry Ellison & Co said in a statement. "Oracle seeks more than $200 million in damages and an injunction that would stop Rimini from continuing its current business model, which is based on infringing Oracle's intellectual property rights.
Specifically, Rimini's business model is to offer enterprise support for Oracle software at rates it boasts are as much as 50 per cent lower than Oracle's own, including support for JD Edwards, PeopleSoft, and Siebel branded products.
In 2010, Big Red sued Rimini Street and its founder and CEO Seth Ravin for allegedly engaging in "massive theft" by downloading support materials from Oracle's websites, which it would then provide to its own clients without a proper license.
Three years earlier, Oracle sued an SAP subsidiary called TomorrowNow for similar grounds. It took seven years for that suit to resolve, with the two companies eventually settling for $357m. Significantly, Ravin was also a cofounder of TomorrowNow before selling it to SAP in 2005.
Oracle likewise gained the upper hand in its suit against Rimini with a pair of rulings last year. In February, US District Judge Larry Hicks of the District of Nevada, where Rimini Street is headquartered, found that Oracle was entitled to prima facie judgment on two of its claims against Rimini – meaning Rimini was clearly in the wrong – but that two more claims needed to go to trial. A second judgment in August 2014 affirmed those findings.
And so the case lumbers on, with the next arguments to be heard in September. As Judge Hicks observed in his ruling last February, "This is a complex case with briefing upon summary judgment motions of approximately 200 pages, with over 2,700 pages of exhibits, before a heavily burdened court in which three of the total of seven active judgeships in this district have been vacant and unfilled during much of the pendency of these motions for summary judgment."
Oracle may have had another motive for announcing the next phase of the case today, however, given that it said a federal judge had confirmed the suit to go back to trial on July 1. It seems Rimini Street has a major financial announcement scheduled for Thursday, July 8, and Oracle just couldn't resist putting out some negative press about the firm beforehand.
"Oracle's media statement today regarding the nearly decade long competition and years of litigation between Oracle and Rimini Street appears to be driven by frustration," Rimini spokesman Dave Rowe told The Reg in an emailed statement, adding that Rimini's customer base continues to grow.
"Rimini Street will be able to comment further after its Preliminary Second Quarter 2015 Results are released publicly tomorrow, July 8, 2015," Rowe said. ®
Sponsored: Minds Mastering Machines - Call for papers now open