Apple: Factory minions, need another 90 million iPhones over here, stat
Cupertino gearing up for Fall's fanboi phone-fondling feeding frenzy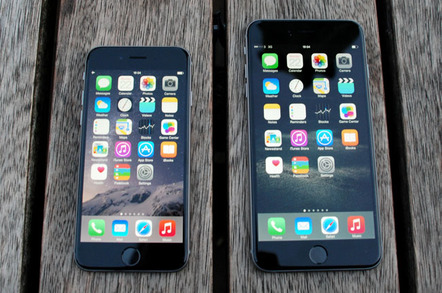 Apple is expecting to sell up to 90 million of the next iPhone, apparently.
People whispering to the Wall Street Journal claim that the Cupertino giant expects to shift 80 to 90 million handsets when the new models go on sale later this year. Accordingly, the biz has told its factories to crank out enough handsets to meet that anticipated demand.
Apple did not respond to a request for comment, and we don't expect one any time soon, given its policy against commenting on rumors.
While 90 million units is an eye-popping number, the figure would not be far out of line with Apple's history of sales.
According to Apple's own figures [PDF], in the first quarter of its fiscal 2015 (September 28 to December, 2014), fanbois snapped up 74.46 million iPhones, and in the second quarter (December 28 to March 28, 2015) 61.17 million iPhones were shipped.
Judging by those numbers, a 90 million-unit quarter would not be out of the question for a new iPhone model. Apple has yet to announce any plans for a new iPhone, but execs have shown off the iOS 9 firmware update promising a release for the Fall.
The successors to the iPhone 6 and 6-Plus are not expected to be major updates – the WSJ report notes that Apple's order includes the same 4.7in and 5.5in screen sizes of the current iPhone models. This would suggest that the new iPhones will not feature any change in case or screen design, but would likely offer updated internal components.
Apple has followed this pattern with previous iPhone models. The iPhone 4S and 5S respectively came out a year after Apple introduced a new case design and were pitched on their hardware updates over the last-year's model. ®