Samsung stuffs 2 TERABYTES into flash drive for ordinary folk
Wham, bam, thank you, NAND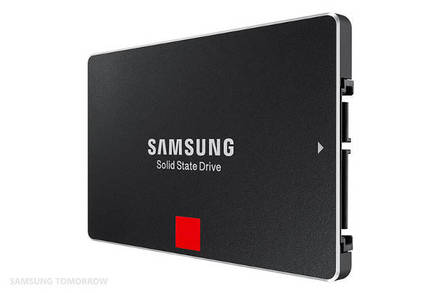 Samsung has brought out a pair of mighty 2TB solid-state drive (SSD) internal drives aimed at the consumer market.
The South Korean electronics giant said its 850 SSD PRO and EVO hard drives pack 2TB of capacity in a 2.5in hard-drive enclosure. Each drive contains 128 32-layer 128Gbit Samsung 3D V-NAND chips as well as four 20nm-process 4Gbit DRAM chips.
Samsung has long touted the 3D V-NAND chips as a more scalable and power-efficient alternative to previous flash storage methods.
A 2TB capacity had been previously reported as possible, should users ask for one. Samsung said that, indeed, users had clamored for more storage space in the EVO and PRO SSD lines.
"Samsung experienced surge in demand for 500 gigabyte (GB) and higher capacity SSDs with the introduction of our V-NAND SSDs," said Samsung memory senior vice president of branded product marketing Un-Soo Kim.
"The release of the 2TB SSD is a strong driver into the era of multi-terabyte SSD solutions."
The 2TB 850 PRO costs $999 and carries a 10-year, 300TB-written warranty. The 2TB 850 EVO sports a $799 price tag and offers a 5-year, 150TB-written warranty. Both drives are now on sale, we're told, although at time of writing, we couldn't find anyone selling it.
The 2TB drives join Samsung's line of 120GB, 250GB, 500GB and 1TB 850 EVO and PRO SSDs. Samsung says the 2TB EVO and PRO models have the same speeds and feeds as their 1TB counterparts:
2TB 850 EVO: 540MB/s sequential read, 520MB/s sequential write, 98,000 random read IOPS (4K), 90,000 random write IOPS (4K)
2TB 850 PRO: 550MB/s sequential read, 520MB/s sequential write, 100,000 random read IOPS (4K), 90,000 random write IOPS (4K)
In total, Samsung says it now offers fully 20 different SSD models.
The news comes nearly seven months after Samsung unleashed the 1TB 850 EVO drives on the market. A Reg review found the drive to be a solid option for those seeking a cheap SSD option. ®
Sponsored: What next after Netezza?