Private companies fall behind in cloud spending race
Public cloud splurges cash, trad IT spend to slip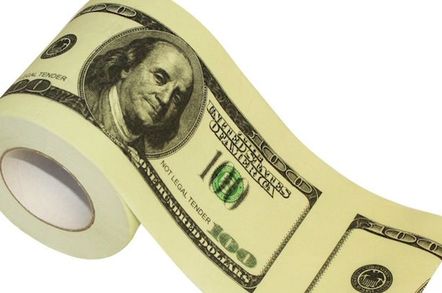 Spending on cloud infrastructure will take an increasing share of customer dollars over the next five years, with public cloud providers outspending their private cloud counterparts.
IDC has reported that total worldwide cloud IT infrastructure spending will hit $33.4bn this year, a 26.4 per cent increase on the year. This figure, which spans servers, storage and ethernet switch, represents a third of all IT infrastructure spending. Last year cloud infrastructure took 28.1 per cent of all spend.
Private cloud spending on infrastructure will be $11.7bn this year, up 16.8 per cent, which public cloud spending will climb 32.2 per cent to $21.7bn.
If you're suffering from fear of missing out, don't. Spending growth will be across all regions and all technologies, with public cloud spend trumping private spend in most regions.
Cloud will continue to soak up an increasing share of industry spending between now and 2019, with a compound annual growth rate of 15.6 per cent bringing it to $54.6bn, or 46.5 per cent of total IT infrastructure spending. Public cloud spending wil grow at 16.5 per cent to hit $35.3bn, while private cloud spending will grow at 14 per cent to hit $19.2bn in 2019.
By contrast, non-cloud spending will decline by -1.4 per cent CAGR. Not that the two areas are completely unrelated. IDC's researchers expect users will flit between hooking their traditional IT systems into public cloud providers, while others will build their own private clouds, use third parties or go hybrid.
Either way, predicted storage systems research director, Natalya Yezhkova, "This growing demand from the end user side and expansion of cloud-based offerings from service providers will continue to fuel growth in spending on the underlying IT infrastructure in the foreseeable future." ®
Sponsored: Minds Mastering Machines - Call for papers now open