SolidFire pulls off gloves for unholy storage ding-dong. Ding-ding!
Flails at EMC, NetApp and Pure Storage with rolled-up out of date documents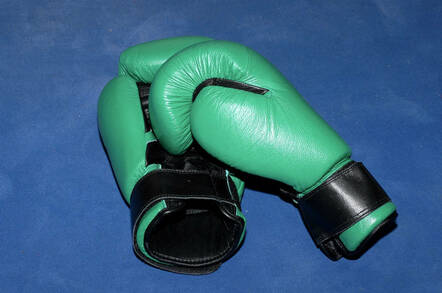 Punchy all-flash array startup SolidFire has taken the gloves off in its competition with EMC, NetApp and Pure Storage by releasing competitive architectural comparisons singling out weaknesses in their products.
You can get comparison docs vs NetApp all-flash FAS, EMC's XtremIO and Pure Storage's FlashArray by filling in minimal ID info on this SolidFire blog page and downloading the EMC and Pure ones, while waiting for the NetApp PDF to be mailed to you.
EMC XTremIO
This doc is dated June 2014 and so is a year old, not including the capacity upgrade and cluster count increase EMC made in May this year and anything else EMC announced since June 2014. The SolidFire doc says: "XtremIO does not currently support compression, effectively doubling the cost of storage."
I'm afraid it does guys, and it was announced in July 2014 (keep up at the back there!)
SolidFire's doc says: "XtremIO provides no Quality of Service performance provisioning control to ensure applications in mixed workload deployments consistently get the IOPS they need."
EMC President Chad Sakac said in January that EMC is working on rich QoS models. Once this QoS functionality comes then SolidFire's document will be substantially out of date.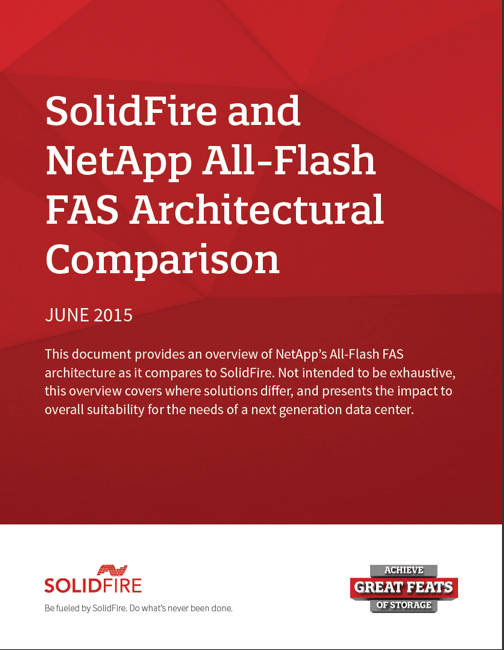 SolidFire vs NetApp all-flash FAS
NetApp
The 6-page NetApp effort is dated June 2015 and mentions several claimed weaknesses, including the latest in-line deduplication, saying:
NetApp's past approach has been to provide these services after the data is written or "post-process." However, with all-flash FAS NetApp now offers partial inline deduplication and compression. Inline deduplication consists of a simple inline zero-detection capability that identifies blocks of zeros in the incoming data and makes those blocks available for re-write. The actual byte-to-byte comparisons are still done post-process.

In reality, NetApp is still not offering true inline deduplication. NetApp does enable inline compression if the customer wants to take the performance hit, which can be significant.
By contrast, the author gleefully says:
"SolidFire's inline deduplication and compression is always on, operates in real time, and enables immediate capacity efficiencies with virtually no performance impact. In addition, SolidFire's deduplication is cluster-wide rather than volume-based, as is the case with NetApp deduplication."
Pure Storage FlashArray
This is another June 2014 vintage document and so doesn't mention Pure's FlashArray//m products announced in June this year. SolidFire says: "The 405, 420 and 450 models scale up offer capacities of 10-40TB, 40-125TB and 125-250TB respectively."
Oops, wrong products guys. The replacement //m20, llm50 and //m70 models scale up to 120TB, 250TB, and 400TB usable respectively (assuming 5:1 data reduction).
Solidfire goes on to say:
"After implementation any need to scale beyond (above or below) one of the capacity ranges requires a disruptive "forklift" controller swap-out." Not so with the//M models we understand. Also the three FA-400 models can be upgraded to "m" status non-disruptively.
Overall, SolidFire's comparison docs make some good points in general, but … it is a pity that the relevance of the EMC XtremIO and Pure Storage comparisons is weakened by the documents being 12 months out of date.
Sloppy work guys; you're punching below your weight here. Must do better. ®
Sponsored: Minds Mastering Machines - Call for papers now open