China unveils Internet Plus plan for FIRST time (actually third time)
Big Data decree, definitive human rights source and much, much, more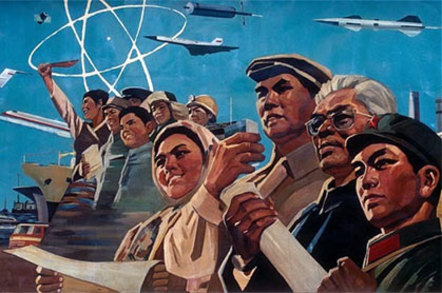 Back in March, Chinese Premier Li Keqiang announced the "Internet Plus" plan, an effort to stimulate China's growth. In late June he did it again at a State Council Meeting. And over the weekend he did it again, announcing that an "action plan" is now in place to make Internet Plus a reality.
The plan – reported in identical English by State organ Xinhua and the State Council, "aims to further deepen the integration of the Internet with the economic and social sectors, making new industrial modes a main driving force of growth by 2018."
Here's the big picture goals for the plan:
"The action plan maps development targets and supportive measures for key sectors, which the government hopes can establish new industrial modes, including mass entrepreneurship and innovation, manufacturing, agriculture, energy, finance, public services, logistics, e-commerce, traffic, biology and artificial intelligence."
Other choice bits from the announcement include intentions to: "encourage more [Chinese] Internet companies to increase their presence in the global market; "train, and make a better use of local and foreign talent"; "provide finance support and tax references to key projects related to the Internet Plus plan, and encourage local governments to follow suit, while welcoming investors from home and abroad"; "launch more pilot zones and encourage innovation demonstration zones such as Zhongguancun, the Chinese version of Silicon Valley".
If you're thinking that all sounds a bit like a command economy at work, you're not far off the mark. China knows it can't be the worlds factory forever and knows it can't invent everything itself. Internet Plus is therefore an effort to re-balance the Chinese economy in the face of – by Chinese standards – slow annual growth of just 7.4 per cent.
The nation's also tackling growth with a new national big data strategy in order to improve public administration. The State Council Announcement about this effort should sound familiar: apparently siloed data* is being forgotten when it could be put to use for, among other things, "market supervision."
There's also a telling paragraph in the announcement of the strategy, in a section quoting Shen Jun, vice director of a new information center that has done some pioneering public sector big data work.
"During the test run and in-house training, we were frequently taught to click more. Some colleagues were surprised by analysis charts they made themselves," Shen said. "The system stimulates our creativity by offering us a tool for comprehensive inquiry and free analysis."
There's also some delicious language in the announcement that China's human rights website, www.humanrights.cn, has received its third refresh since first publication in August 1998. Xinhua says the site is "... the only authoritative website on the issue" and "demonstrates progress in China's human rights protection, features international research on human rights, and promotes enhanced awareness among society."
If you say so! ®
* The exact phrase used is "forgotten islands" of data. With China contesting ownership of scraps of rock in the South China Sea, make of that what you will.
Sponsored: Your Guide to Becoming Truly Data-Driven with Unrivalled Data Analytics Performance