NexGen releases goodies for next-gen software package
VM-level QoS should reduce vMotion disturbances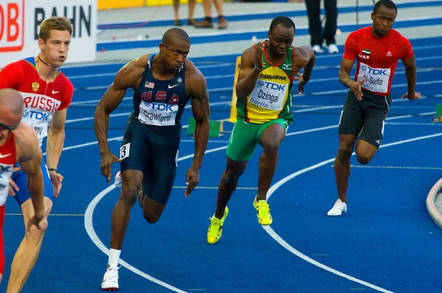 Reinvigorated hybrid array startup NexGen is pushing out quality-of-service (QoS) goodies for vCentre and VMware VMs, saying it will cut the need for vMotioning VMs from one server to another when performance slows.
It comes with v3.5 of NexGen's ioControl software, which marketing veep Chris McCall said: "Takes our user interface and spools it into vCenter," as a plug-in. NexGen claims it is the industry's first and only VM-level QoS designed for VMware Virtual Volumes and PCIe flash.
NexGen makes a hybrid flash/disk array, using up to 4 SanDisk PX PCIe flash card products along with 7.2K disk drives. It currently supports iSCSI access, with Fibre Channel being looked at by NexGen engineers. It's also looking at adding support for containers and will upgrade to NVMe as components come through the supply chain. The NexGen controller has two x86 processors, which will be interconnected by NVME in the future.
Its QoS is based on all data landing in flash first and then a decision is made about what to move down to disk.
The QoS is set per LUN (logical disk volume), VM or VVOL, with two levels of granularity. In total there are five performance policies with three basic service levels; mission-critical, business-critical and non-critical.
QoS can promote disk data to flash cache on the basis of a mission-critical data cache-miss. It promotes desired data, and the data round it, to flash, for faster service.
There is a Prioritised Active Cache (PAC) in DRAM. A VM's active data set is in PCIe flash and DRAM with inactive (less-active) data on disk. Read-ahead is integrated with QoS and works on a sub-volume level, with 1MB chunks of data.
The highest-priority data is stored in PAC. The QoS settings affect how much data is read ahead of use and stored in the cache – a process called warming. Mission-critical data has the most aggressive warming policy, with business-critical data next. There us no warming for non-critical data.
The v3.5 software supports vCenter Server 6 and provides performance service levels to VMs, delivering VM data path control on a per I/O basis, improving infrastructure utilisation and scale. ESC testing supports the claim that it can increase server VM workload.
Mark Peters, practice director and senior analyst for the Enterprise Strategy Group (ESG) stated: "By simply knowing what data needs to be in flash and what data doesn't, our testing shows NexGen's ability to handle a 23 per cent greater workload."
That a VM's QoS can be modified, Peters said, "without the need for storage... is impressive and provides the ability to speed-up or slow down VMs in real time". Change occurs in seconds to minutes and, NexGen says, there is no impact on other workloads.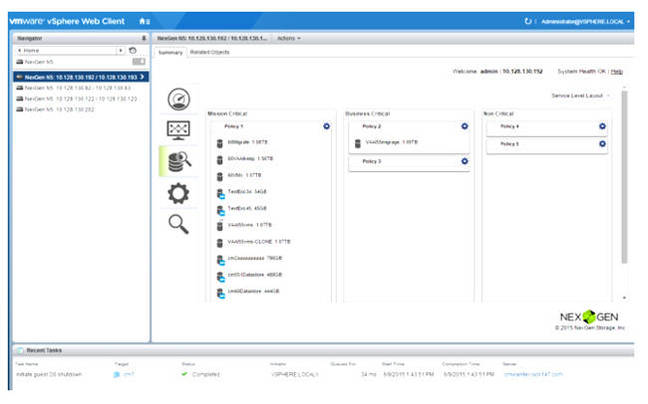 NexGen QoS manager screenshot
NexGen says its QoS Manager also delivers a comprehensive set of offloaded per-VM data services, including QoS, snapshots (scheduled data protection), thin provisioning, cloning, automated VVOL provisioning and VM storage performance. Through vCenter Server 6, it provides single-pane-of-glass management IT admins.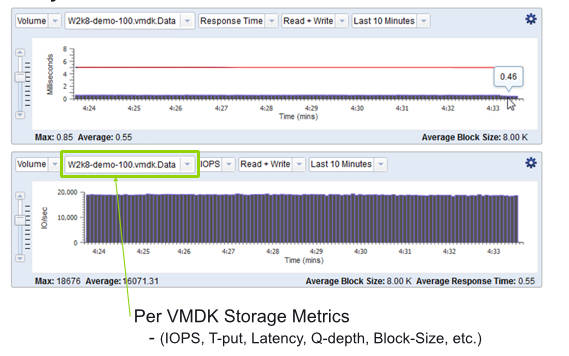 NexGen ioControl v3.5 SAN metrics in vCenter
NexGen's QoS framework applies primarily to performance today, with some data protection through scheduled snapshots. NexGen has ambitions to extend it to data placement. Also NexGen says it is ready for coming NVMe flash devices.
NexGen is looking to an all-flash future, with McCall saying: "Flash on PCIe is our design centre – We are absolutely committed to an all-flash array and believe in multi-tiered media... TLC, PCM [and] ULLtraDIMM are technologies we're looking at in the lab."
He said NexGen is "waiting for switched PCIe fabric technology to give us means to scale-out without [any] latency hit from networking as we have today."
NexGen aims to catch up with the three hybrid array startups – Nimble Data, Tegile and Tintri – by provider faster supports for NVMe, moving into tiered all-flash systems when practical, better QoS for more efficient array operation, and fast and deep integration with VMware VVOLs etc. and containers.
It's run by execs in a hurry to prove that the SanDisk sojourn and exit has unfettered them and now they will be able to run fast and free. ®
Sponsored: Becoming a Pragmatic Security Leader