ETERNUS embiggens at peak of Mt Fujitsu (it's a drive array, not Tolkien)
New high-end beast summoned with old one squashed a bit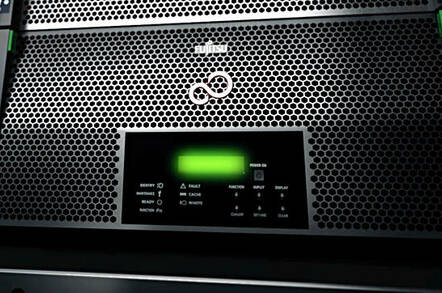 Fujitsu's modular array line is being refreshed at the top end, with a third-generation ETERNUS DX8700 S3 product and a new DX8900 S3 array.
| | | | |
| --- | --- | --- | --- |
|   | DX8700 S2 (2011) | DX8700 S3 (new) | DX8900 S3 (new) |
| Max capacity | 6.14PB | 4.6PB | 13.8PB |
| IOPS | 1 million | Not known | 4 million |
| Max drive count | 3072 | 1536 | 4608 |
| Storage controllers | 2 to 8 | 2 to 8 | 2 to 24 |
| Max connectable hosts | 8192 | 8192 | 8192 |
| Max cache (DRAM) | 1.15TB | 1TB | 6TB |
| Max second-level cache (SSD) | Not known | 22.4TB | 67.2TB |
David Histon, head of storage for Fujitsu UK & Ireland, told us: "The ETERNUS DX8700 S3 series is based on a new architecture, which we call the quad star architecture. Out of this concept we have derived the DX8700 S3 and DX8900 S3. The DX8900 S3 is the successor of the DX8700 S2, with strong scalability up to 24 controller modules and 4 million IOPS."
He believes that Fujitsu "will get many more IOPS out of the system depending on load scenario."
For context he said: "It is all based on the S3 family concept and platform, so that means the S3 architecture and PCIe 3rd generation interfaces and the quad star infrastructure. This means the software functionality of the S3 generation, like transparent fail over, quality of service manager, AST, dedupe, compression, etc., is all available for the DX8000 series as well."
The DX8700 S2 is a November 2011 vintage product. We imagine Fuji is squashing down the DX8700 S3's capabilities to create more space for the much more scalable DX8900 S3.
Histon said: "The DX8700 S3 is the small brother of the DX8900 S3. The DX8700 S3 has smaller cache and less controller modules but still, given the new architecture with extreme cache as an option, we can add 24TB as additional cache to the DX8700 S3."
The DX8900 S3 scales up to 13.8PB, and delivers a claimed 4 million IOPS. NetApp's FAS8080 tops its FAS range, has 4 million IOPS, and has up to 5.8PB of capacity; score one to Fujitsu.
The DX8900's 2 to 24 controllers, the same number supported by NetApp's Clustered Data ONTAP, are conceptually arranged in a ring around up to four front-end routers, each of which is connected to every controller. The interconnect is gen-3 PCIe. Fujitsu says there is active-active cross-access for optimised load-balancing.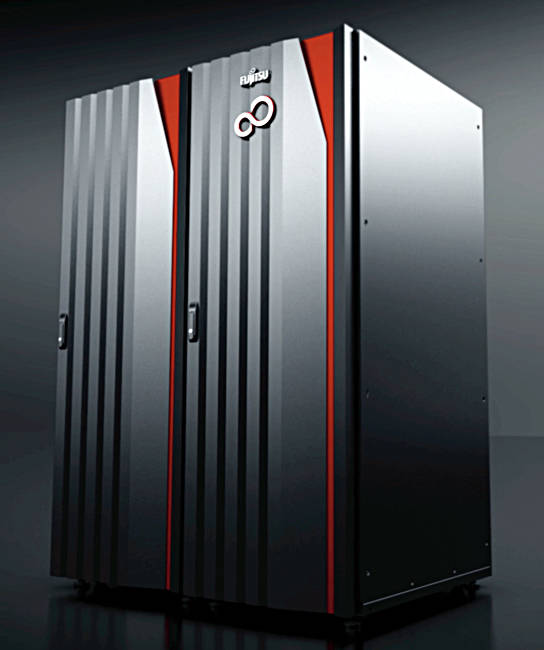 The ETERNUS DX8900 S3 racks
Fujitsu assures us that there is zero-downtime if a front-end router or controller fails, thanks to transparent fail over and end-to-end redundancy protecting against component failure. RAID protects against drive failure. Synchronous mirroring between two DX8900s protects against complete array failure.
Each storage controller pair can have up to 385 disk drives or SSDs connected. Twelve pairs times 384 drives gives us the 4,608 maximum drive count.
Compared to the DX8700 S2, the DX8900 S3 has 8 times the IO performance, 8 times the bandwidth, and twice the bus performance.
Automated quality of service is an ETERNUS feature. A storage admin can define a desired response time (or priority) for a storage volume. The array system tracks the actual response time, and adjusts the bandwidth to that LUN, and the storage tier if need be, to achieve the required response time. Fujitsu says this technology can be used to support service-level management for virtual servers.
The DX8900 is a seriously large array with enterprise-class reliability features. Fujitsu sees it as a target for consolidating data for online transaction processing (OLTP), large-scale databases, file services, business-critical applications and business analytics and/or Big Data into a single, multifaceted silo for use by enterprises and cloud service providers.
What we have here is Fujitsu's ETERNUS entry into the scale-out, dual controller array big time, equalling NetApp's headline ONTAP cluster node count, surpassing the FAS8080's capacity, and with good reliability features.
Both the DX8700 S3 and DX8900 S3 will be available from August 1. We were told "prices vary by configuration and region," without being given any actual prices. ®
Sponsored: Quit your addiction to storage