Indiana Jones whips Bond in greatest movie character poll
While Walter White tops TV rankings...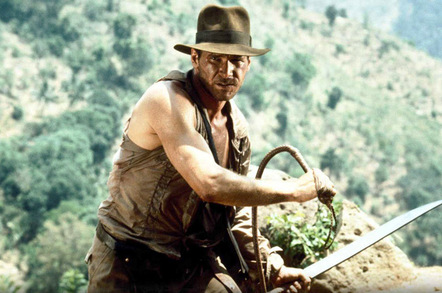 Reg reader movie buffs will doubtless have an opinion on the news that Indiana Jones has been voted "greatest movie character of all time".
The whip-cracking archaeologist beat James Bond into second spot in a public poll conducted by Empire. Han Solo rolled in third, meaning two podium appearences for George Lucas and Harrison Ford.
The Dark Side of the Force was represented by Darth Vader in ninth place. Ripley from Alien was the sole female to make the top 10:
Indiana Jones
James Bond
Han Solo - Star Wars
Batman
Ellen Ripley - Alien
The Joker
John McClane - Die Hard
Tyler Durden - Fight Club
Darth Vader - Star Wars
The Dude - The Big Lebowski
Empire's 10,000 voters also selected their fave TV characters, as follows:
Walter White - Breaking Bad
Tyrion Lannister - Game Of Thrones
Homer Simpson
The Doctor - Doctor Who
Tony Soprano - The Sopranos
Sherlock Holmes - Sherlock
Buffy The Vampire Slayer
Jack Bauer - 24
Omar Little - The Wire
Frank Underwood - House Of Cards
We'll hand over to you lot for the traditional "what no [insert name], you must be joking" comments...®
Sponsored: Beyond the Data Frontier