Post-pub nosh neckfiller: Nasi goreng pattaya
Malaysian chicken fried rice omelette. Lovely
Two eggs. NEVER three eggs for the perfect omelette
Here's the traditional step-by-step, using a thin two-egg omelette: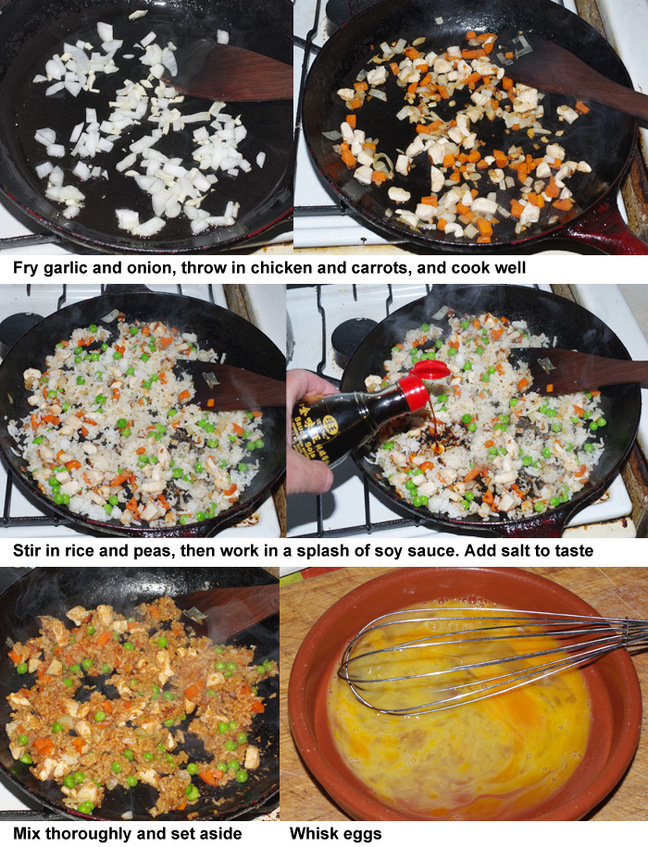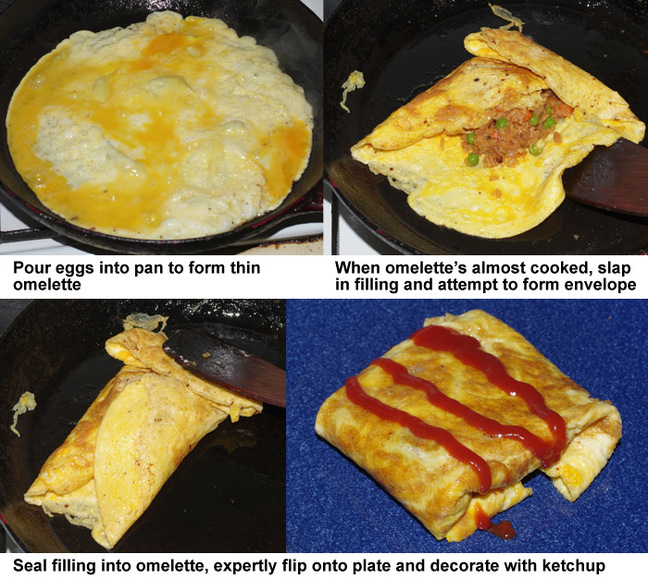 As you can see, I had a few problems forming the omelette envelope, due to the absence of my glamorous assistant Katarina (end of year exams, bless), and the need to cook and snap photos at the same time.
I'd suggest taking the omelette out of the pan and then finishing the dish on a plate, probably while not attempting to simultaneously photograph the process.
Whatever way you handle it, the omelette must be thin, otherwise you've got no chance of pulling off a satisfactory enclosure.
Regarding the fried rice part of the process, if your oil is nice and hot, it shouldn't take more than five or so minutes, but make sure the chicken is properly cooked. This is a stir-fry operation, so use a minimal amount of oil and keep stuff moving continually in the pan (or wok, if you have one), otherwise it will burn.
Tomato ketchup is the traditional finishing touch, although chilli sauce is an obvious option for curry heads. Alternatively, stick with the ketchup and serve with a shot of napalm mead, having first saved the local medical centre's phone number on speed dial.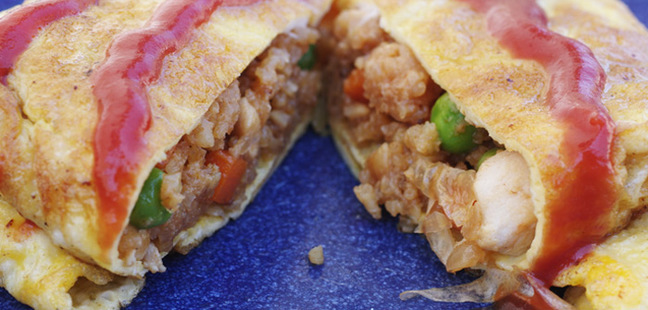 So, what's the verdict on nasi goreng pattaya? In a word: admirable. Plenty of flavours in there, and easy on the teeth with a nice slight crunch from the carrot.
If you doubt your ability to manipulate a hot pan after a robust night on the sauce, consider nasi goreng pattaya for breakfast, for which it is entirely plausible. ®
Previous post-pub nosh neckfillers for your wobbly dining pleasure ...