Philae warms up nicely, sends home second burst of data
Mission boffins say lander is getting three hours of sunlight a day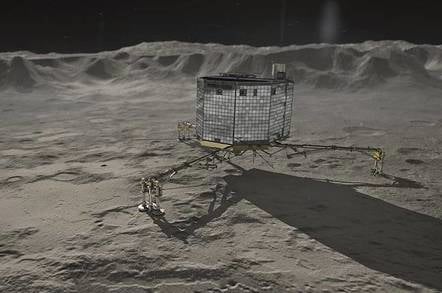 The European Space Agency (ESA) says the Philae lander, Earth's unofficial ambassador to Comet 67P/Churyumov-Gerasimenko, has sent a second burst of data back home.
Philae contacted its hominid masters over the weekend, a much hoped-for event after the craft fell into a shady spot on the comet and depleted its batteries.
The ESA now says that weekend contact saw 300 packets – a whole 663 kbits – reach Earth. The agency's not saying how much data made it out on the second burst, but says it was shorter than the first transmission. The good news is that the new burst revealed the craft's internal temperature is now a positively balmy –5°C, up from –35°C in the weekend readings.
The increased warmth and overflights by the Rosetta probe that bore Philae to 67/P suggests the lander is seeing plenty of sunshine – up to three hours a day according to the German space agency DLR. That's rather more than then 1.3 hours mission boffins expected and suggests, says Philae project leader Stephan Ulamec, "... that the lander is in as good a condition as we could have hoped."
Those hopes are so high that Ulamec hopes to soon give Philae's instruments a whirl. "First, the non-mechanical instruments will be used – that is, instruments that do not drill or hammer," Ulamec says. "In the forefront will be those instruments that consume little energy and also send only small amounts of data to Earth."
Philae's resurgence means the ESA's Rosetta team is now getting busy adjusting the probe's orbit so the lander can be observed more often.
To recap for those who like their stories in TL;DR mode: humanity sent a probe that travelled hundreds of millions of kilometres and caught up with a comet and successfully dropped a lander onto the comet's surface. That lander worked as planned, was built so well it survived seven months of who knows what and now seems ready to send home more data. But the train or bus that brings you to work today will probably run late and we're making a mess of a zillion other things. ®
Sponsored: What next after Netezza?