Unfinished business
Back in the here and now – incidentally, all the new apps are available from today – InDesign gets similar navigational speed enhancements as Illustrator and, in cells of tables, can now host images through a simple drag and drop. It's another one of those user niggles that's been awaiting implementation. Adobe is also previewing a feature called Publish Online. It enables repurposing of documents for viewing on any recent web browser on any device or platform. Collaborators can also be sent a link so they can view how a design is shaping up.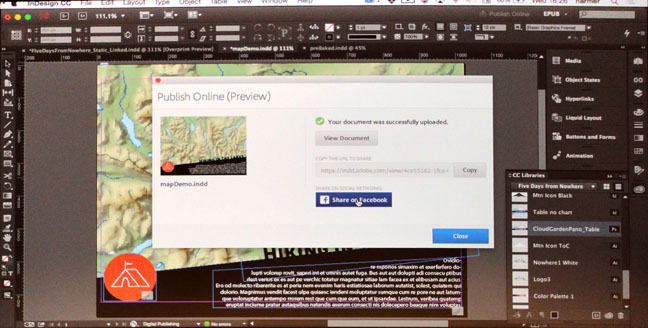 Still at the preview stage, InDesign's Publish Online feature enables viewing of documents from a browser
Adobe showed off several preview (read: work in progress) options. Photoshop gets a simplified user interface, that actually looks like it could speed things up considerably, especially for those who do the same tasks day in, day out. Called Adobe Design Space, the idea is to minimise clutter and reduce mouse clicks and movements.
In After Effects, the preview feature is Adobe Character Animator, that tracks facial movements using a webcam enabling 2D characters to reflect these movements. It works in real time too, and both movements and dialogue can be recorded. South Park may never be the same again.
The After Effects Character Animator feature was showcased at NAB in March along with one that's actually fully functional called Face Tracker. Want to put a moustache or some spectacles on a live character? All this is possible and you can vary how much accuracy you need. Just want head movements, or mouth and eyeballs too? The basic face tracking enables the use of a simple mask to apply effects. With more detail, you can exaggerate features, change eye colour and suchlike, and add 3D elements too.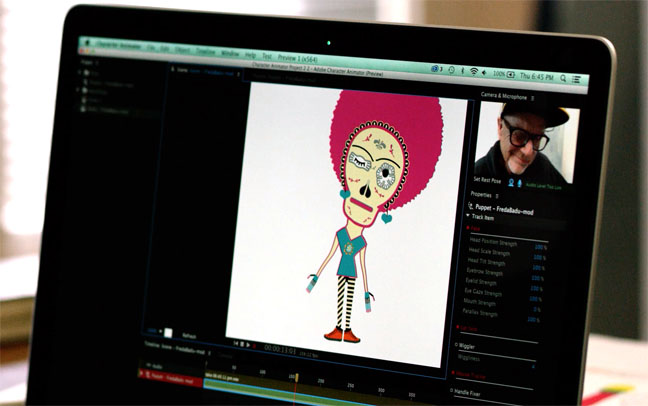 In preview, Character Animator has time saving potential, applying facial expressions to animated characters from a webcam
Also shown at NAB and available now on Adobe Premiere Pro is Morph Cut – it smooths out jump cuts in talking head shots with a can't-see-the-join smoothing effect. More interesting still was Time Tuner, which enables the duration of content do be reduced by up to 10 per cent. It fillets out frames by detecting minimal movement and sound.
While it'll probably be used to trim off half a second here and there for short ad breaks, it's conceivable that a three hour movie could lose 18 minutes. Will pregnant pauses and fade to black become a thing of the past?
Premiere Pro also benefits from the new Lumetri Color panel – a colour correction tool with a simplified interface, and a new app called Adobe Hue, previously referred to as Project Candy, that also works with After Effects. It has some similarities to SpeedGrade, the desktop colour grading tool, by delivering shot matching on your phone. By using the the camera on your phone, the Hue will grab a Look of the scene.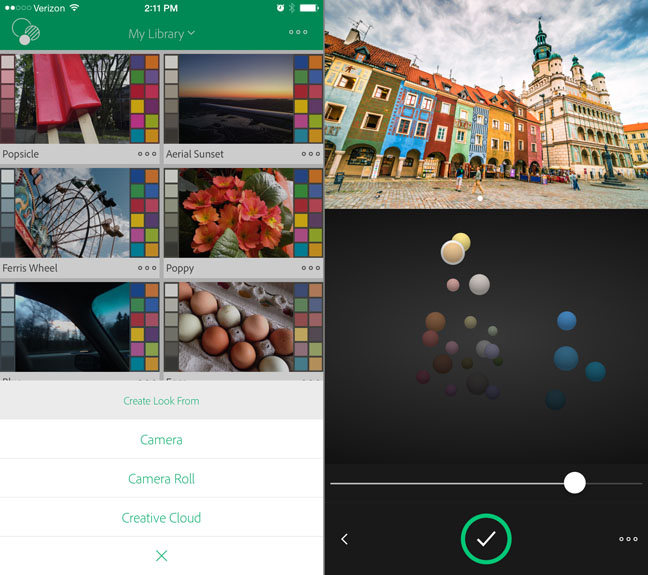 Choose your source in Adobe Hue and edit the end Look for use in Adobe's video applications
The result is shown as bubbles depicting colour in 3D space and those different hues can be applied to video footage in After Effects, Premiere Pro or the mobile app, Premiere Clip. You can also get a Look from existing images in your camera roll and assets in Creative Cloud. So you fancy giving a Blade Runner look to your sci-fi short, then find some screenshots and knock yourself out.
Back in the day, I was always told to use a UV filter on the front of my SLR, as, besides minimising haze, it would also protect the lens. Adobe has different ideas about hazy scenes and has introduced Haze/Dehaze in Lightroom, its professional photo librarian and retouching application. It's not exactly earth shattering, but it does penetrate foggy snaps or turn pristine examples of photographic clarity into something more murky and moody.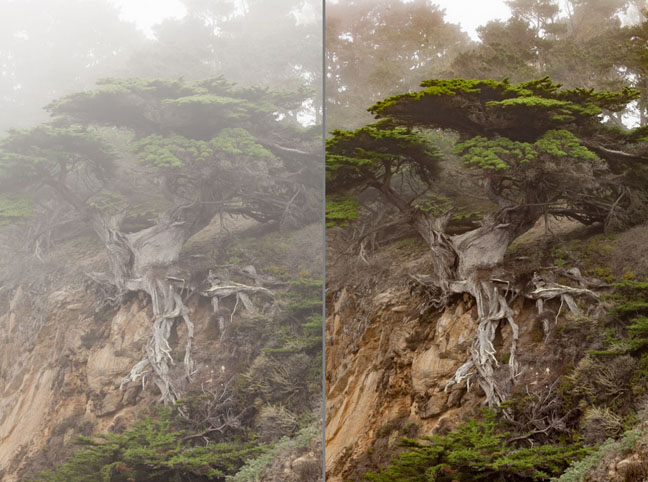 Creative cloud? Lightroom DeHaze before and after
Whether these features combined will be enough to put those stubborn CS6 users in a mood to buy into Creative Cloud remains to be seen. For those tethered to a desk doing routine tasks, it's probably still a bridge too far. Yet for design driven, multiplatform creative types, eager to capture moments of inspiration, then this joined-up way of working should see plenty more heads in the cloud. ®
Sponsored: Ransomware has gone nuclear