EU digi-chief to meet ministers and sort out the net neutrality thing
Don't worry, calling neutrality hardliners 'socialists' was just a kooky turn of phrase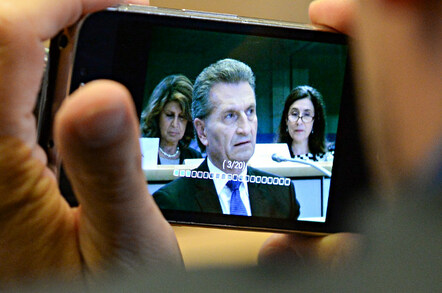 Gaffe-prone Gunther H-dot, Europe's digital chief, has waded into the net neutrality debate once again, but has vowed to sort everything out in a meeting with national ministers next Friday.
Commissioner Oettinger was reported this week saying that "net neutrality is socialism by the back door". This alarming statement is only a follow-up to his oft-repeated comment that net neutrality activists are like "the Taliban" – so what better man to sort out the deadlock between national ministers and MEPs?
Oettinger's Commission team explained this latest statement to mean he's in favor of net neutrality, except when it comes to essential public services such as ambulances, fire services, etc, which he believes deserve preferential treatment. It is just Oetti's quirky turn of phrase that turns those who take a hardline net neutrality stance into "socialists", reassured his cabinet advisors.
Negotiations on the so-called Telco Package hit a wall on Tuesday night when national representatives from the Council and those from the European Parliament failed to compromise on net neutrality or roaming charges. The law has been so mangled by various revisions that these two elements are all that's really left of a raft of legislative proposals. With so many aspects chipped away, the Commission now plans to launch a separate policy initiative in 2016.
"Commissioner Oettinger and Latvian Minister Matiss have invited telecoms ministers for an informal breakfast on Friday to discuss the situation and to make further progress," said Nathalie Vandystadt, spokeswoman for the Commission. "The European Commission continues supporting the most ambitious approach: we need to end roaming charges and get strong net neutrality rules as soon as possible. We should not disappoint Europeans, who are waiting for the end of roaming charges as soon as possible. They also want their access to the open internet to be ensured. This is why we need strong net neutrality rules."
But while the Commish pushes for a compromise, civil liberties groups have praised MEPs for digging in their heels. "MEPs have clearly affirmed that they will not accept the least common denominator proposed by EU member states on roaming and net neutrality. This is an important decision – and OFE congratulates the Parliament for its firm stance – but one that brings policy debates to a dangerous deadlock," said Graham Taylor, CEO of OpenForum Europe. ®
Sponsored: What next after Netezza?