Gigabyte and Cavium team on super-dense ARM servers
384 cores in a 2U chassis will give scaled-up Atom-isers something to ponder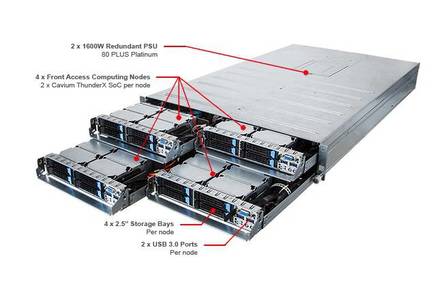 Computex 2015 Motherboard maestro Gigabyte has revealed new servers based on Cavium's ThunderX ARM chippery.
The decision to do so is not entirely new: Gigabyte makes server motherboards, bare bones servers and even some ARM-powered servers based on the AppliedMicro X-Gene1 CPU. The move into Cavium-powered boxen takes things up a notch, because the 48-core, 2.5GHz ThunderX CN8890 it'll deploy is rather gruntier than the X-Gene1.
Gigabyte's built a motherboard to host ThunderX silicon, the model MT70-HD0, and a H270-T70 chassis designed to enclose eight of the motherboards in a 2U, 384-core rig.
That kind of density makes this an attractive proposition for all sorts of scale-out and hyperscale applications. But what about the software, we hear you cry. To which we say Cavium's got that covered: the company's made big contributions to the Xen hypervisor to get it humming on ARM and has even made sure the likes of host bus adapter vendor QLogic can play nice with its silicon.
The aim is clearly to show that ThunderX can work with plenty of mainstream FOSS software and important hardware building blocks, making it less risky for mass deployments by either hyperscalers or those looking for x86 alternatives. Having Gigabyte – a reputable mobo and server-maker – aboard doesn't hurt either, if only because it suggests OEMs think there's a quid to be had in this ARM server caper. ®
Sponsored: What next after Netezza?