Long, sticky summer ahead: Win 10 will be with OEMs by 31 August
Online retailer Newegg post prices, Microsoft's says that's a mere 'rumour'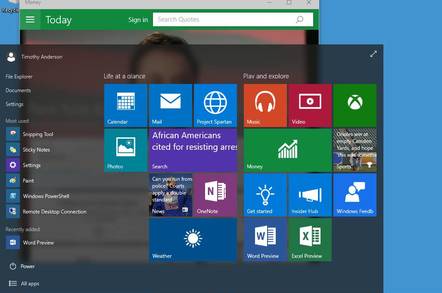 UPDATE Microsoft's been saying Windows 10 will ship "in summer"*. And now it looks like the company has chosen the last day of summer** to launch Windows 10.
We're basing that assertion on this page at online retailer Newegg.com, which has listed Windows 10 as going on sale on August 31st.
At the time of writing, and in this screen capture, the site listed two versions of Windows 10.
The "10 Home – OEM" version is listed at US$109.99 and a "10 Professional – OEM" version looks like setting you back $149.99. We checked Newegg Australia and UK, too, but those editions of the site didn't list Windows 10.
Both versions have the following system requirements:
Processor: 1 gigahertz (GHz) or faster RAM: 1 gigabyte (GB) (32-bit) or 2 GB (64-bit) Free hard disk space: 16 GB Graphics card: Microsoft DirectX 9 graphics device with WDDM driver A Microsoft account and Internet access
The prices are for OEMs – PC-makers – so may well be a little cheaper than the price everyday punters will pay to get their hands on the new operating system. That's if they need to bother with paying at all: Microsoft's signalled there'll be free upgrades a-plenty for users of properly licensed older versions.
The Reg suspects Newegg's data might not be all there is to know about Windows 10's release date, because plenty of US schools will re-open on August 31st or September 7th. An August 31st launch date for Windows 10 would mean Microsoft all-but misses out on an important PC selling season.
Or perhaps Redmond agrees with analyst outfit IDC's prediction that Windows 10 won't put a rocket under PC sales, so doesn't care when or how it emerges.
UPDATE: As it happens, your correspondent today met with Giorgio Sardo, a senior director in Microsoft's Developer Experience & Evangelism group. Sardo characterised Newegg's page as "a rumour". He added that Microsoft is on track to deliver Windows 10 in the summer, and suggested the recent slow-down in major features reaching new builds of the OS show Microsoft is in the giving-it-a-polish and tying-up-loose-ends phase of work on the product. ®
*Northern summer, of course. Redmond's not so sure about seasons south of the Equator.
**That's meteorological summer, measured from June 1 to August 31st. Astronomical summer starts June 21 or 22 at the summer solstice and finishes at the vernal equinox on September 22 or 23.