Softcat preps for IPO, closes in on brokers
Credit Suisse, Jefferies tipped to run the process for reseller juggernaut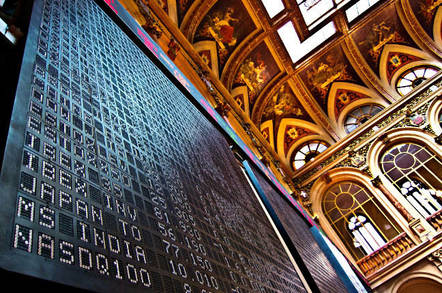 Softcat is preparing the groundwork for its flotation on the London Stock Exchange with the market expected to value the tech reselling juggernaut at cool half a billion pounds.
Our sources tell us Marlow-based Softcat has narrowed the field of potential brokers to a handful of firms, but Credit Suisse and Jeffries are most likely to lead the process following a beauty parade.
Founded in 1993 by Peter Kelly — now a non-exec director — the company's top line expanded 27.5 per cent to £504.8m in fiscal 2014 ended 31 July as operating profit reached £35.5m, from £27.4m in the prior year.
The company has mid-single digit share of the total available spend for tech resellers in the UK, so in theory has lots of room to grow. Services account for roughly ten per cent of its turnover.
Majority shareholder Kelly wants to attract worldwide institutional investors to gear the business for the future, or so say sources familiar with the matter. He also plans to reward staff that have been with the business over the years.
Softcat's swollen digits have all but ruled out a trade buyer — it took the largest reseller in the world, CDW, to take a minority stake in similarly sized tech supplier Kelway — and management do not favour the private equity alternative.
The company carries no debts and has not made one acquisition to date, avoiding the obvious costs and integration challenges associated with such a strategy.
Unlike other tech suppliers, Softcat doesn't shy away from the reseller tag, and in the past told us the growth formula is about increasing sales staff via its graduate training programme and good old fashioned customer service.
Some 730 people are now working for the business across five locations — Marlow HQ, London, Bristol, Manchester and Leeds.
Our loquacious sources tell us Softcat pencilled in plans to float in the fourth quarter at the earliest, but no broker has yet put pen to paper to act on its behalf.
The company has eight directors that were paid a dividend in the last financial year, according to documents held at Companies House.
CEO Martin Hellawell refused to comment on the flotation but told us private equity investment was not something that management team would entertain because an investor, he said, would add very little to the organisation. ®
Sponsored: Detecting cyber attacks as a small to medium business