Man sparks controversy, fined $120 for enjoying wristjob while driving
Put it away, Macesin! Do you have a solicitor, Macesin?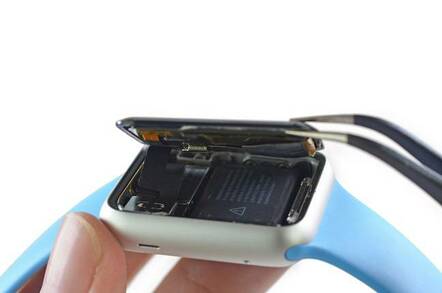 Jeffrey Macesin, a self-described "gadget lover", has been slapped with a $120 fine and four points on his licence for enjoying his wristjob while operating a vehicle.
The Canadian was pulled off the road by the Surete du Quebec, reported CTV Montreal.
Macesin said he was unaware he was breaking the law, which of course is not a legitimate defence. The fanboi said he thought he was permitted to watch his new Apple Watch while driving, though obviously his fondleslab and iPhone were prohibited.
When asked when he got his watch, the fanboi told CTV: "The day of April 24 ... I was one of the first ones that ordered it. I'm one of those crazy lunatics that stayed up until three in the morning to get the pre-order."
Macesin was signalled off the road and given a ticket under Section 439.1 of the Quebec Highway Safety Code: "No person may, while driving a road vehicle, use a hand-held device that includes a telephone function."
Macesin argues that technically he wasn't holding the device, as it was strapped to his wrist.
"It's not so much handheld. It's a watch. You know, it's on my wrist. That's where it gets controversial. It's like, 'Is it? Is it not?' but I think this needs to be talked about," he said.
CTV spoke to Avi Levy, a lawyer specialising in fighting cases involving traffic violations. "I knew it was just a question of time before we got a case like this, but it definitely won't be the last," he said, noting that the wording of the Quebec Highway Safety Code does not explicitly forbid smart watches.
"I'm not convinced that the Apple Watch itself is a phone. It's rather a Bluetooth device that communicates a signal from the phone and it has been established in the law that you're allowed to use Bluetooth devices and it doesn't constitute an infraction," Levy explained.
Notably, the code talks of a telephone function, which may cover the signal Levy spoke of, although the holding aspect could provide some room for argument.
Macesin explained that he had his smartphone "in the bag charging while the auxiliary cable is plugged into the radio and this controls my phone to play the music. So I was changing songs with my hand on the steering wheel".
"There was a cop car behind me and he didn't have his lights on yet, but then he turned them on and I thought maybe he just wanted me to get out of the way. I was just confused," said Macesin, who is reportedly contesting his ticket.
Explaining his love of the fruity folks' thingies, the fanboi told CTV that he was an Apple guy. "This is my life," he said. "Its products have really helped me."
"It's Apple and I figured it was going to be a revolutionary product and I wanted to get my hands on it," said Macesin, in what will probably not be an adequate defence in court. ®
Sponsored: Practical tips for Office 365 tenant-to-tenant migration