Server market grew at its fastest rate since 2010, say Gartner's mystics
Boxes fly out of the doors in North America, but sales still moping in Japan and LatAm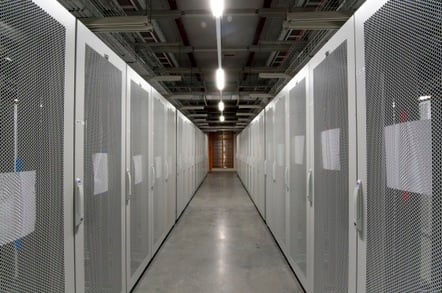 Hard-pressed server slingers have finally got some news they want to report – sales are growing at the fastest rate since 2010 and the value of them is up by double digits too. Has the world gone mad?
The worldwide market expanded by almost 18 per cent in calendar Q1 to $13.39bn, as unit shipments bounced 13 per cent to 2.66 million, according to preliminary estimates from Gartner.
Output equated to the "second-largest-volume quarter ever", said Adrian O'Connell, research director, who attributed this to hyper-scale build-outs, particularly in North America.
The abacus wielder told us that service and bit barn providers stocked up on commodity x86 systems and there was also an element of a wider refresh taking place – Windows Server 2003 goes end-of-life from 14 July.
Intel-based server grew 13.2 per cent year-on-year, representing the lion's share of shipments, while revenue grew 14.5 per cent. RISC/Itanium Unix server shipments and revenues declined 2.9 and 3.1 per cent respectively.
The mainframe segment was up 95.1 per cent in terms of revenues, the stats show.
HP remained top dog in the global server stakes, despite growing slower (10.4 per cent) than the industry average – it still accounted for 23.8 per cent of total market revenues, albeit down from 25.5 per cent.
After knocking IBM down the pecking order last year, Dell kept hold of second spot with revenues up 14.4 per cent and market share dropping to 17.1 per cent from 17.7 a year ago.
As for Big Blue, which sold its System x division to Lenovo last October, revenues dropped 15.9 per cent and market shares came in at 14.1 per cent versus 19.8 per cent. Lenovo's market share grew by 6.5 times to grab a 7.2 per cent share of spoils.
The bounce in North America was tempered by declines in Latin America and Japan. EMEA was up one per cent in shipments but a richer mix of higher-margin products led to a 6.6 per cent hike in vendor revenues to $3.23bn.
"After a challenging 2014, the first quarter of 2015 marked a positive, if slightly tepid, start to the year for the server market [shipments] in EMEA," said O'Connell.
He said cloud, digital business and installed refresh base helped out, "but the reality is that we are not seeing significant budget increases. In that context, and particularly with exchange rate pressures leading to price increases, a 6.6 per cent revenue growth is a strong result for the market".
Locally, HP revenues declined 0.6 per cent, Dell grew 13.7 per cent, IBM was down 27.7 per cent, Lenovo grew from $7.8m to $231m, and Cisco was up 56.4 per cent.
The currency impact was clearly felt by some more than others. ®
Sponsored: Becoming a Pragmatic Security Leader