SanDisk opens for business with point-of-sale terminal SSD
Dedicated retail POS storage will ensure no-sleep tills in Brooklyn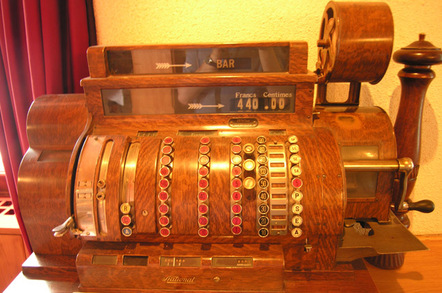 SanDisk has built an SSD for point-of-sale terminals, digital signage and surveillance gear, saying it's better than disk drive use. Tablet, notebook and PC OEMs could use it too, so long as they don't need more than 256GB.
The idea is to price the SSD "on a par" with disk drives, while pointing out that the Z400s outperforms HDDs by a factor of 20, provides five times the reliability and with five per cent of the average power consumption. The customers are OEMs and actual prices haven't been provided.
The device specs are:
15nm Toshiba NAND – MLC we think
32GB, 64GB, 128GB and 256GB capacities
To 33,000/62,000 random read/write IOPDS
To 520*/330MB/sec sequential read/write bandwidth
SATA 6Gbit/s interface
20 TBW (32GB), 40 TBW (64GB), 72 TBW (128 and 256GB) endurance
mSATA, 2.5" SATA and M.2 (2242 and 2280) form factors
Up to 1.75 million hours operation
SanDisk has three embedded applications in mind: point-of-sale (POS), digital signage, and security cameras, asserting the Z400s is faster than disk drives, uses less power and is more reliable. SanDisk says checkout queues could move faster, as they get slowed down by disk-based POS kit reboots. Retailers will want that proved.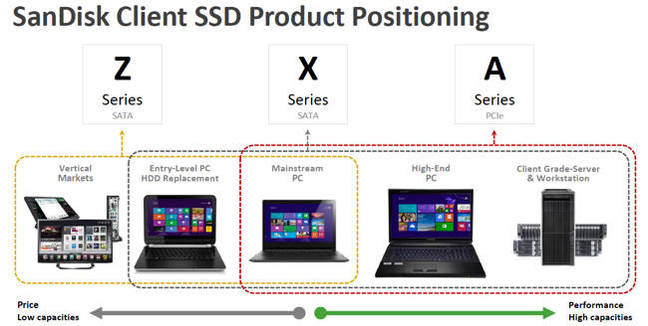 SanDisk's three client SSD types and use-cases
It says the Z400s is useful in those embedded apps where storage requirements are relatively short-term, "thus these applications only require low capacities, but reliability and performance levels are paramount".
We imagine there might be production or marketing limitations preventing higher capacities than the current 256GB maximum, hence this short-term data retention marketing tactic.
For mobile device use, SanDisk says the low power demands for mobile device use are helped by a SATA DEVSLP low-power mode to minimise power consumption during idle periods by shutting off the SATA PHY. This results in much lower power consumption than the SATA Slumber mode.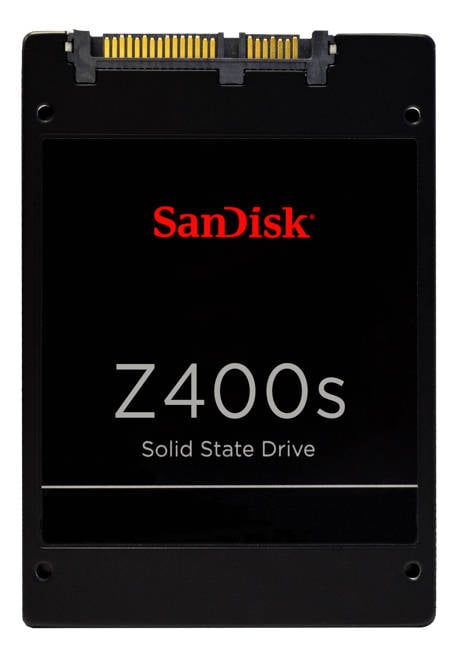 In some ways, the Z400s is a logical extension of the SSD use case, but the product has perplexing attributes – like the relatively short-term storage aspect of its use that SanDisk mentions. The Z400s is sampling now. ®
* SanDisk's release says up to 549MB/sec but the PC and embedded data sheets mention a max of 520MB/sec.
Sponsored: Becoming a Pragmatic Security Leader