Live web vid spaff app Periscope shoved up Android mobes
Twitter movie tool comes to the majority of world's smartphones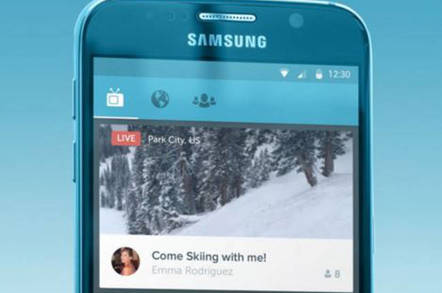 Popular live video-broadcasting app Periscope has been released as an Android app via the Google Play store.
A trio of Periscope engineers announced the release on a Medium post Tuesday morning.
Periscope, Twitter's answer to fellow mobile broadcasting app Meerkat, allows users to record and broadcast live video streams from their phones, and share them with the internet via the social network. Sharing options include the ability to make broadcasts to everyong, or keep it private to all but select users - although that feature has had some snafus in the past.
For the last two months, the app had only been available to iPhone users via the App Store. The development team credited that to a desire for a controlled release and a chance to develop unique features for the more open Android handsets.
"As a small startup, our initial launch was limited to just iOS, but we've been working really hard to craft an experience that feels special on Android, yet still unmistakably Periscope," they wrote.
Along with a new user interface, Android will sport a pair of options that iOS users won't have. Android users get a more precise set of notification settings, including the ability to only be notified of a friend's first Periscope broadcast and no further posts. Android users will also be able to get "resume" notifications to continue viewing broadcasts that were interrupted by incoming calls or text messages.
Briefly a startup operation, Periscope was acquired by Twitter for a reported $100m in March and quickly relaunched later that month as a Twitter-branded app for iOS. Two months later, the Periscope app is now on the two largest smartphone platforms.
No word was given on when, or if, Periscope would be ported to Windows Phone or BlackBerry handsets. Based on its progress so far don't hold your breath. ®
Sponsored: Becoming a Pragmatic Security Leader