Boring old Brocade just sits there making money. Damn them
Irritatingly stable firm just trundles along like a vintage Volvo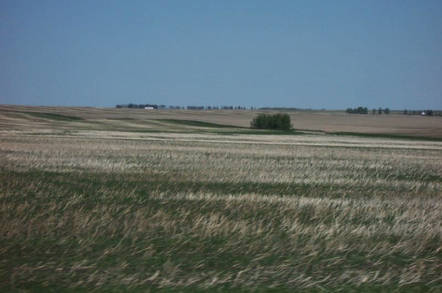 Brocade's second quarter fiscal 2015 revenue was $547m, up two per cent year-on-year and down five per cent sequentially, as is Brocade's seasonal pattern. Net income was $77m, monstrously better than the $14m loss it announced a year ago.
That loss was due, Brocade says, to a non-cash goodwill impairment charge from the strategic repositioning of the Brocade ADX product family from hardware to software.
SAN product revenue was $314m, down two per cent year over year, due to lower demand for storage generally "and operational issues at certain OEM partners."
IP Networking product revenue was $145m, up 19 per cent on the annual compare. Brocade sold more routers and Ethernet switches, and enjoyed higher software networking revenue.
Global Services revenue was $88m, down 7 per cent year-on-year primarily because of an extra week's revenue a year ago in what was a 14-week fiscal quarter.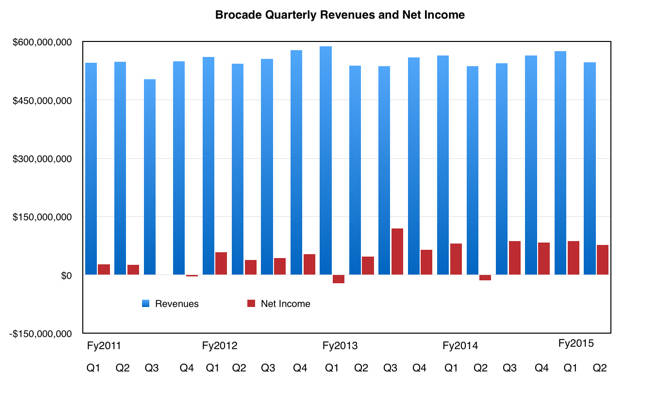 Brocade's revenues have been effectively flat for four years although CEO Lloyd Carney has made profitability mote consistent in recent quarters. Can the company break out of this no-growth zone and start lifting top line revenues into an excitement zone again?
The basic issue is that Fibre Channel (FC) revenues from a mature business are solid but flat while IP networking revenues have more growth potential but to be earned without getting trampled on by Cisco. Did Carney give any clues during the earnings call?
FC revenues should grow a bit, as Carney said: "We see several catalysts in the second half of the fiscal year, including the ramp of new products from our partners and the growing deployment of flash storage technologies for which Fibre Channel is a predominant protocol attached."
There's also gen 6 or 32Gbit/s FC to look forward to with the first products appearing in the first half if calendar 2016. Regarding that, Carney said: "Some of the largest demand we're seeing for 32-gig next-gen, Gen 6 is coming from the flash providers, because they're building architectures today in anticipation of 32-gig pipe."
Interesting.
But what is the vision for growth? Carney said it is "to grow our presence in the data centre, affirm our position as storage experts and be one of the best networking partners in the industry."
Not very encouraging if you're looking for a dramatic upsurge in growth.
In particular, Carney said: "We continue to invest in software-based technologies that enhance the value of our hardware solutions, allowing us to build more strategic relationships with our customers and underscoring our vision for the New IP."
That, we think, means adding IP networking to the existing FC OEM deals, as for instance it's done with EMC (Connectrix line) and HDS. It also involves widening its IP portfolio, as it has done with the acquisitions of Connectem (LTE virtual evolved packet core technology) market, and the SteelApp assets from Riverbed, which join the Vyatta and Vistapointe software product technologies.
Carney said Brocade is getting really good traction on this software portfolio and said a revenue forecast would come for the software group at the end if this fiscal year.
He was asked about NetApp's poor results, and said: "As a matter of fact, the OEM – both our IP products and our SAN products and they actually had a good quarter for us. ... So Tom [CEO Tom Georgens] over there is a great CEO. He's going to get that thing back on track. And as he gets it back on track, we're going to benefit from it."
Brocade said 25GbitE and 50GbitE was a roadmap item with a switchable product and a 2016 delivery period. It sees a 25/50GbitE switching product as a natural evolution from today's 10GbitE.
William Blair's Jason Ader said: "The SAN segment continues to dampen top-line growth, but remains a valuable cash-cow to fund capital return to shareholders and investment in stronger areas of the business (particularly software...). Meanwhile, the IP side of the business is executing well, especially thanks to a pickup in federal spending. With revenue effectively treading water, management continues to execute efficiently and control costs. ... we continue to view Brocade's business as stable."
Fair enough; stable is as stable does. What we take away from this is that Brocade is a solid company operating in mature markets from which it will hope to produce dependable revenues and net income but without any growth fireworks. This is a company in it for the long haul.
Move along folks; there's no revenue growth excitement zone likely here. ®
Sponsored: Minds Mastering Machines - Call for papers now open