Driverless cars deal death to Detroit, says Barclays
Told you so, says smug Reg hack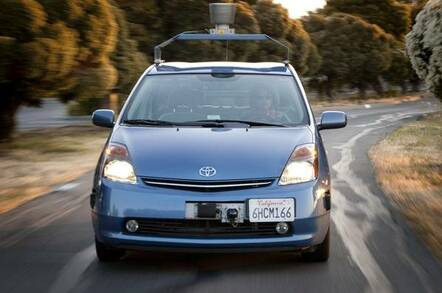 Shared driverless cars will kill off the multi-car household, and a Barclays analyst reckons that points to a calamitous future for Detroit.
The bank's Brian Johnson reckons the driverless world will drive down US auto sales by 40 per cent over the next 25 years, and will force GM and Ford to slash their output, he reckons.
Bloomberg says the report, "Disruptive Mobility" predicts over that time the number of cars on US roads will dip below 100 million (down around 60 per cent), and annual sales will fall to 9.5 million (a fall of around 40 per cent from today's levels.
Johnson doesn't assume that Americans will give up on owning cars completely – but families won't see the need to own more than one car, because they'll be able to whistle up a trip from an autonomous car service.
Those driverless cars will pile on the miles, he reckons, because they'll be able ferry people around throughout the day instead of being parked and waiting for their owner to return.
His prognostications suggest GM would have to cut 68 per cent of its North America production, and Ford's output would fall by 58 per cent.
Bloomberg notes Boston's prediction that self-driving cars will be worth US$42 billion by 2025 and could make up a quarter of global sales by 2035.
Johnson also paints a bleak future for taxi drivers, since in self-driving fleets, "the average cost per mile to the consumer could be 44 cents for a private ride in a standard sedan and 8 cents for a shared ride in a two-seater".
Modesty not being part of The Register's DNA, we mention that we considered this question in 2013. This author's expectation – perhaps a 10 per cent decline in sales – was, however, far more conservative than Barclays. ®
Sponsored: Detecting cyber attacks as a small to medium business