BT's taxpayer-funded broadband monopoly may lock out rivals, says independent report
Does 'incumbency advantage' hurt competition in UK?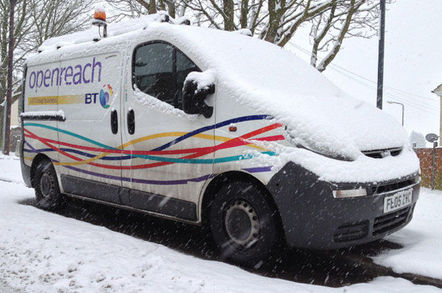 BT's monopoly in supplying Blighty's national broadband scheme may have permanently locked out future competition – according to an independent report card on the £780m public purse project.
The evaluation, by economics consultancy Oxera, was required by the European Commission, following its decision to grant the scheme state aid clearance.
However, since its inception, BT has become the sole supplier on the scheme's framework. Fujitsu had also won a place, but it withdrew in March 2013 citing its inability to meet a local authority's requirements.
The report said:
[The] lack of competition for local tenders raises the question as to whether BT has now locked in an incumbency advantage that is of future detriment to competition.

This issue relates not only to BT's actual costs, but also to rivals' beliefs about whether it is worthwhile to bid against BT.
It said the scheme also had the potential to create an incentive for BT to reduce the scope of its commercial investments in order to receive state funding for projects that would still be commercially viable without the aid.
"However, BT has not (publicly) announced a reduction in the scope of its commercial investment in superfast broadband and, as far as we aware, intends to deliver the £2.5bn investment that it initially identified," it said.
The report concluded that, on the basis of the information available, the scheme was designed in an appropriate manner targeted at overcoming the identified market failure.
The deadline for the scheme to be completed was May 2015, but the roll-out of superfast broadband was delayed by two years, after the government rejigged BDUK's schedule with the pledge to reach 95 per cent of properties by the end of 2017.
According to the latest Ofcom Infrastructure Report, 75 per cent of premises in the UK now have superfast broadband coverage.
To date, 13,870 properties have received speeds of over 24Mbps per £1m of BDUK funding.
The watchdog's report said BDUK was on track to deliver its revised timetable. ®
Sponsored: Detecting cyber attacks as a small to medium business