Toshiba pumps 'use-more-Ethernet-drives' cash into Exablox
Seven million smackeroos says we luv you muchly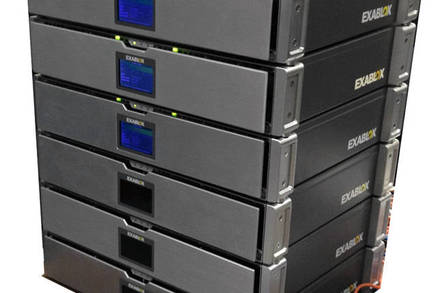 Scale-out object storage startup Exablox has received a $7m investment from Toshiba to add to its existing $16m pot, taking total funding to $45.5m.
Toshiba, actually Toshiba America Electronic Components, Inc. (TAEC) joins Dell Ventures as a strategic investor in Douglas Brockett's firm.
The initial $16m in the C-round came from DCM Ventures, Norwest Venture Partners and US Venture Partners and Dell Ventures.
Exablox's unique technology puts a NAS-head on object storage and punts the product at small and medium enterprises, not the typical large-scale object storage customers. The SMB businesses don't suffer any RAID protection overhead and the appliances provide inline deduplication, continuous data protection, and remote replication.
In February this year Exablox said it had seen a thirteen-fold year-on-year growth in customers and the number of appliances sold. That would encourage the VCs.
Dell's Alan Atkinson, VP and general manager of Dell Storage, said: "Exablox has a unique storage architecture that delivers the benefits of object-based storage to the mid-market, without the associated complexity."
TAEC's CTO and VP George Bouchaya said TAEC put cash in due to Exablox's ability to quickly support new drive technologies that meet the rapidly growing demands of storing unstructured data. Direct access Ethernet key:value disk drive and array technology has been announced by TAEC and is being demo'ed at its stand at the Vancouver OpenStack summit, May 18-22.
We're looking forward to Exablox appliances using these new drives. ®
Sponsored: How to get more from MicroStrategy by optimising your data stack