Google wraps search designer in Cardboard
Search UI guru Jon Wiley now leading VR design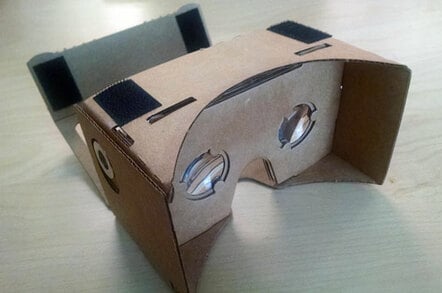 Google luminary Jon Wiley has taken a sideways jump that's seen as signalling a serious move on the virtual reality market.
The change was noticed when Wiley updated his Twitter profile. Previously head of user experience in Google's search business, his profile now describes him as "Principal Designer, Google Cardboard and VR".
The Chocolate Factory's Cardboard gimmick got lots of attention, but the real action was back in the software – the app that tried to turn the phones images into a VR-ish experience for the user.
That app was open for community participation, and by the end of 2014 half a million people owned Cardboards.
Google must be pleased enough with the experience to appoint a serious designer to lead the project, having earlier this year padded out the development team with extra engineers.
FastCompany noticed the move, and speculates that making a UX expert principal designer for the project is designed to help give VR a nice interface. ®
Sponsored: Becoming a Pragmatic Security Leader