Ex 'Tech City' chief Shields appointed junior Fun minister for internet safety
Despite starting a probable alien invasion when at Bebo*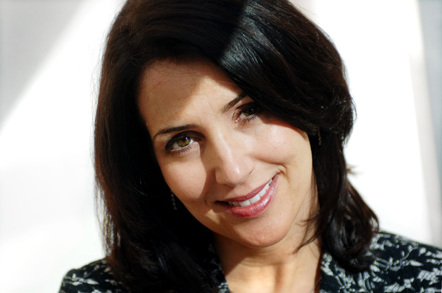 Tory Baroness Joanna Shields OBE, ex-Tech City supremo, ex-head of Bebo*, ex-head of Facebook Europe and ex-MD of Google EMEA, has been appointed minister for internet safety and security.
Shields was awarded the OBE in the 2014 New Year's Honours list and elevated to the peerage the following August.
The Telegraph reports that Shields has been appointed as a parliamentary under secretary in the Ministry of Fun (Department for Culture, Media and Sport), principally to work on online safety and stopping the spread of child abuse imagery. The appointment has not yet been formally announced by the Ministry of Fun.
Shields will cover cybersecurity, hacking and cybercrime in her remit. This is likely to include the Snoopers' Charter Communications Data Bill.
A dual US-UK citizen, Baroness Shields has been Prime Minister David Cameron's adviser on the digital economy since July 2014.
She left her £115,000 job as CEO of Tech City UK to join the London Stock Exchange Group in January, but remains as pro-bono chairman. ®
Bootnote
*[It was on Shields' watch that the doomed teenybopper blabber portal possibly precipitated an interstellar war and the extinction or enslavement of humanity from the year 2049. -Ed]