BUZZKILL. Honeybees are dying in DROVES - and here's a reason why
The Asian mite might be the reason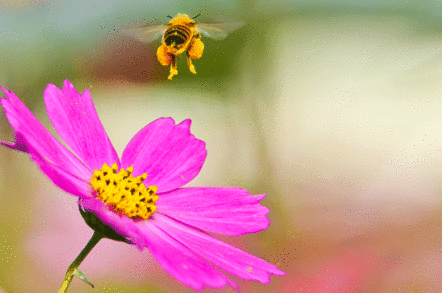 American honey bee numbers briefly stopped falling off a cliff last year, but apiarists are now warning that was a blip, not a flattening of the trend.
This year over 40 per cent of colonies were seen to die out, up from a yearly average of 30 per cent. Last year however, that number dipped to just 23 per cent, a move welcomed by Professor Dennis vanEngelsdorp of the University of Maryland, who put the figures together.
He told the Washington Post that "it's better news than it could have been".
In general, reasons for the rapid decline are not fully understood, but one factor is the impact of the two species of Tropilaelaps, the Asian mite.
Defa advises UK beekeepers to be on the lookout for this invader and it's a legal obligation to report sightings.
The UK's National Bee Unit, has confirmed to The Register that "Tropilaelaps is not currently present in the UK. The National Bee Unit manages an active exotic pest surveillance programme which involves inspecting 'at risk' colonies in areas close to potential exotic risk entry points."
Bees are important for food production, and in the US the value attributed to honey bees from crops directly dependent upon pollination has been was estimated at $29 billion in 2010(PDF).
The sharp increase in the fall of bee numbers in the US is tracked by the organisation Bee Informed which said: "Responding beekeepers reported losing 42.1 per cent of the total number of colonies managed over the last year (total annual loss, between April 2014 and April 2015). This represents the second highest annual loss recorded to date."
The worst affected state was Oklahoma with losses of 63.4 per cent, while Hawaii only saw a 13.9 per cent drop. Figures for the last decade have always outstripped the levels of acceptable loss.
One additionally worrying factor is the high level of summer losses, with vanEngelsdorp saying that commercial beekeepers are losing more insects in the summer than winter.
City beekeeping has seen a huge surge in popularity with a number of books in the subject. Friends of the Earth is currently conducting The Great British Bee count and has apps for Android and iOS to help counting.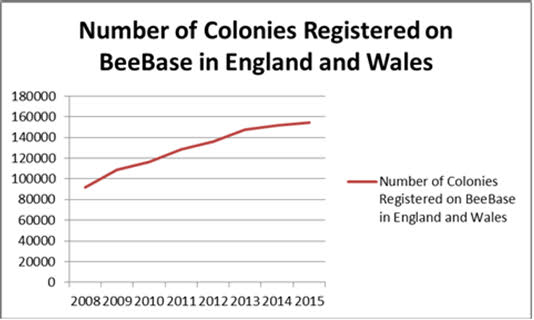 There has been good growth of registered bee colonies in the UK but registration is voluntary and numbers may not be comprehensive
Simon Cavill, who left the IT business to concentrate on apiculture, told us that the perfect food for bees are dandelions. "They are the source of nectar and pollen for a couple of days and are really important for our pollinating insects."
He recommends leaving them to grow for a bit and then eating them, "either raw in a green salad, or steamed, or added to a stir fry. The flowers are sweet and crunchy". Simon uses bees to make cosmetics. ®
Sponsored: Becoming a Pragmatic Security Leader