More oompa loompas needed to push Google's EU agenda
Social networkers also required to do battle in Brussels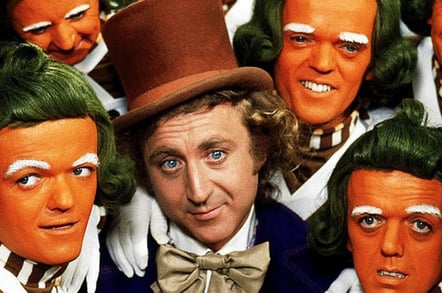 Google and Facebook are throwing people and money at the EU in an effort to ensure more laws go their way.
Both companies are recruiting new policy wonks to influence law-makers in Brussels. Google is after two public policy and government relations analysts – one to work on the European Commission and the Council, the other to focus on the European Parliament.
According to the adverts, the pair will "work with policy makers, industry bodies and third parties to advance Google's policy agenda". Both posts are full-time and based in Brussels and preference will be given to applicants who have worked in government, politics, a think tank, advocacy group or trade association.
With digital commissioner Gunther "H-dot" Oettinger considering a so-called Google tax, as well as a planned investigation into the role of platforms in the Digital Single Market, the new Chocolate Factory oompa loompas will have their work cut out.
Facebook, meanwhile, is currently looking to recruit a public policy manager, as well as a new head of EMEA policy communications.
The former will be tasked with monitoring legislation and regulatory matters affecting Facebook, advising the company with respect to policy challenges and representing the social network in meetings with government officials and elected members. The comms bod will be expected to explain Facebook's "policy, privacy, safety and security efforts". With the company facing privacy challenges in France, Spain, the Netherlands, Germany and Belgium, persuading "influencers" of Facebook's benevolence could prove a challenge.
Facebook says the new team members can look forward to "some of the most interesting public policy challenges of our times, including privacy, freedom of expression, the impact of the internet on business models and new opportunities for public service delivery". ®