Rare monkeys stolen from French zoo – now even rarer
Possibly cheese-eating, involuntarily surrendered monkeys now Billy No Primates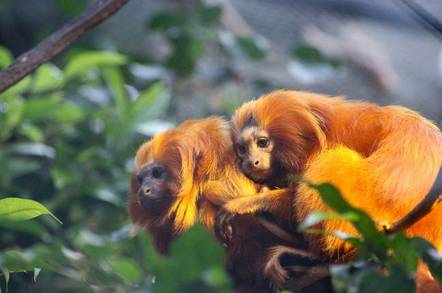 Seventeen endangered monkeys have been stolen from ZooParc de Beauval, a zoological conservation park in Saint-Aignan-sur-Cher, central France.
ZooParc de Beauval's director, Rodolphe Delord, said the thieves had broken into the zoo on Saturday night, avoiding security cameras and patrols, and stole seven golden lion tamarins and 10 silver marmosets.
"These are extremely rare, extremely fragile monkeys that are part of an international breeding programme," he told AFP, adding that the golden lion tamarins belong to the Brazilian government.
"They don't belong to us," the director was quick to note. "The lion tamarins are the property of the Brazilian government and are under extreme threat."
Zoo management had "absolutely no idea how this happened", and Delord noted that the park is monitored day and night by guards and CCTV.
The animals could only be sold on the black market.
The Register contacted the RSPCA, which could well understand the stolen monkeys being sold in the UK, where the RSPCA states that as "a consequence [of a lack of regulation in the UK] many [such monkeys, which can be owned at pets] are seriously suffering thanks to lack of companionship from their own kind, poor housing, diet and environment".
Delord added: "I can't at all see what the thieves can do with them."
The French police and veterinary services have been informed. The monkeys require a strict diet and may only be owned and sold by licenced specialists. Also, one of the golden lion tamarins has an injury on its tail which needs daily attention.
"It is essential that we find these animals very quickly," said the zoo director. "They are very difficult to feed and should be looked after by specialists. We hope to find them very soon."
The RSPCA informed The Register that "it is unknown exactly how many primates are being kept as pets in the UK at present, but estimates are between 3,000 and 9,000 ... with what appears to be a rise in online sales too the trade is growing at the expense of the monkeys." ®