Russia delays ISS crew mission over Progress launch safety fears
Delay means Italian Trekkie breaks woman in space longevity record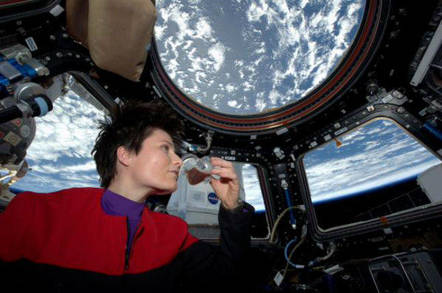 The current crew on the International Space Station is going to be spending at least another month in space after the Russian space agency Roscosmos decided to keep them up there a while longer, and at least one resident astronaut is over the moon at the prospect.
Italy's first woman in space, astronaut Samantha Cristoforetti, tweeted from the ISS that the delay is nothing but good news for her. It will make her the longest serving woman in a single spaceflight, breaking American astronaut Sunita Williams' 195-day record.
Looks like it's not time to get my spacesuit ready yet... what a present! #MoreTimeInSpace http://t.co/i26pwWu8Oo pic.twitter.com/HzSuRjFQpE

— Sam Cristoforetti (@AstroSamantha) May 12, 2015
The delay will also give Cristoforetti more opportunities to show off her Star Trek: Voyager uniform, which she used up most of her baggage allowance to get onto the ISS. Just like Voyager's boss, Cristoforetti holds the rank of captain and has been delighting Trekkies with her orbital shots in uniform.
Cristoforetti and two fellow astronauts, US astronaut Terry Virts and the Russian commander Anton Shkaplerov, had been due to return to Earth on Thursday, but Roscosmos – in consultation with NASA – has delayed the return until a full investigation can be completed into the botched Progress capsule delivery last month.
The Progress M-27M capsule, loaded with three tons of supplies, launched on April 28 but there was an explosion onboard shortly after takeoff, following which the spacecraft refused to respond to directions from controllers on the ground.
Despite repeated attempts to regain control, the Progress capsule remained in low-Earth orbit spinning wildly until finally falling back to Earth and crashing into the South Pacific Ocean on May 8.
Under the circumstances, Roscosmos is unwilling to risk putting humans in a Progress capsule until the source of the problem has been identified. This means the current crew will get at least another month in space before being relieved – although not in that sense.
Meanwhile, SpaceX is picking up the slack and will be delivering another cargo pod to the ISS in June. Roscosmos will resume cargo deliveries as soon as possible, and the agency will give an update on the accident investigation on Friday. ®
Sponsored: Becoming a Pragmatic Security Leader