Telstra builds trans-continental land bridge for data
100Gbps Perth-Sydney link at 40 millisecond latency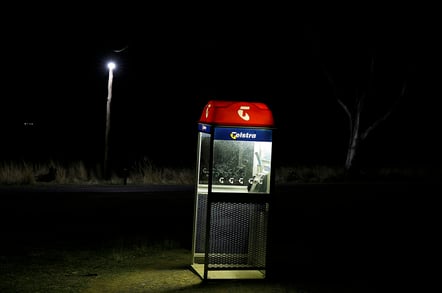 If you want to bring data from Europe or Asia to Australia, routing it to the city of Perth on the nation's west coast is a good idea because the bits spend less time on a submarine cable. For traffic from the USA, routes to Sydney on the east coast are similarly sensible.
Once you land that data you then have the chore of moving it to where Australians' eyeballs reside.
Hence Telstra's newly-revealed 100Gbps capacity low latency optical link from Sydney to Perth , plus a 200Gbps link between Sydney and Melbourne. The Perth-Sydney link is said to offer just 40 milliseconds of latency.
Sydney and Melbourne account for about 40 per cent of all Australian eyeballs, while Perth is closing in on ten per cent of the island nation's head count. The new links mean Telstra can now suck down data from Trans-Pacific cables, land it in Sydney and speed it to the nation's big population centres. Or if data comes from Europe and/or Asia, it can do the same.
All of which leaves Telstra in a fine position to shunt data around Australia.
It's no slouch in China, either, as its recently-scooped Pacnet limb has now been integrated into Telstra's networks, leading the company to claim its multinational customers can now enjoy "more direct and low latency network connectivity in China." ®
Sponsored: Quit your addiction to storage