So tablets, if you want to get anything done travelling get a ... yes, a laptop
Just ask the young gonzo techblogsterz
Slabba-dabba-doooon't
On arrival at the event, the tablet got into a huff with the keyboard and they refused to speak to each other for the rest of the day. After downloading 300 photos to my iPad using my SD adapter and subsequently downsampling, cropping and colour-correcting a selection of them, I discovered that there was no means to get the bastards back onto the SD card again in the other direction.
Nor would the iPad let me upload selected shots anywhere. They would have to sit inside my iPad for evermore. My only option was to sync the whole lot to iCloud. Over the hotel Wi-Fi, it took two hours to sync the first photo; the estimate for syncing the remainder was three days.
While I was running about trying to book time on an expensive hotel business centre computer (which took my credit card details and promptly switched itself off, spurning all attempts by staff to allow itself to be rebooted), my tech blogger colleagues were sitting crosslegged on the hotel lounge floor, optimising their videos on their chunky laptops and uploading to their channels with ease.
So I have been forced to concede that tablet computers are utter crap for everything except playing games, reading books and magazines, and watching TV shows. They certainly aren't any use for work, and they are pretty shit at browsing websites too.
This didn't stop me from trying a bit of tech blogging action for myself. Unfortunately, it's harder than you think. Manipulating a gadget you've only just seen, in front of a tiny camera while talking continuously into a tiny microphone, is tricky.
OK, it isn't, but sod's law dictates that the kit will misbehave, which is a no-no for tech blogs.
It's the same whenever I try to record a software training video. The package will work exactly as designed 100 times in a row, but as soon as I click the 'record' button, it's guaranteed to fail or freeze at some point – not straight away, of course, but some 10 minutes into the video when it's least convenient and most destructive.
If I ran a tech blog, it would be full of me cocking things up and products misbehaving. I know this for a fact because, inspired by my younger and more talented colleagues, I tried it out for myself. Here's me practising a demonstration of how easy it is to detach and re-attach the tablet display of an Acer Switch 10, and I hadn't even got around to trying a voice-over:
Bugger. This is not what my millions of potential followers want to see. They expect a slick presentation where everything works as described in the press release. Let me try again, this time also demonstrating the extra-wide display hinge action:
Shitfuckarse. I'm never going to be a YouTube superstar at this rate. The kit keeps acting up like ... like ... well, like it does in the real world, which will never win me any "likes". The last thing the buying public wants to see is a product reviewer being beaten by the very products he's testing. There's no market for this kind of thing. I think I'll leave it to the professionals. ®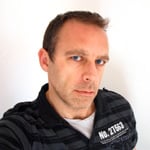 Alistair Dabbs is a freelance technology tart, juggling IT journalism, editorial training and digital publishing. He has dipped his toes into the world of presenting tech in front of a camera on two occasions, and both remain sources of anxiety and embarrassment ever since. He recently rediscovered some VHS recordings of his appearances in the 1990s on The Computer Channel. He is prepared to convert them to video files here for your viewing hilarity if the bribes are big enough.
Sponsored: Becoming a Pragmatic Security Leader