Who's the fat kid on the storage see-saw? We think it's All-Flash
But both of them are eating hard for the win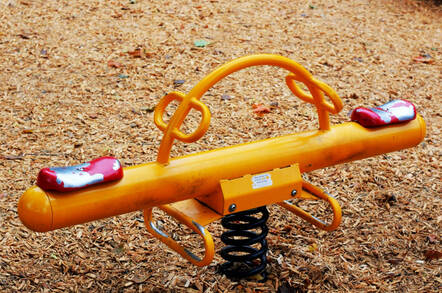 Analysis We're in a kind of phoney war right now as all-flash arrays, hybrid arrays and hyper-conveged arrays fight for mind-and wallet-share. The storage world is in stasis whilst customers work out what to do with the onslaught of SAN/filer alternatives coming their way. What are the suppliers doing to cover the various ways customers could jump?
Traditional networked arrays, SANs and filers from mainstream suppliers like Dell, EMC, HDS, HP, IBM, and NetApp, are battling against a whole raft of alternatives:
Better SANs and filers

All-flash arrays (AFA) from Kaminario, Pure Storage, Solidfire, Violin, not forgetting X-IO, and the mainstreamers' AFAs
Hybrid arrays from NexGen, Nimble, Tegile and Tintri, not forgetting X-IO, and the mainstreamers' hybridised arrays
SW-only storage products from DataCore, FalconStore and Nexenta
Avere accelerated filers

Virtual SANs (Server SANs)

Virtual SANs like HP's P4000
VMware VSAN
EVO: RAIL hyper-converged systems
Hyper-converged systems from Maxta, Nutanix, Scale Computing, Simplivity, etc.

Object storage from suppliers like EMC, HDS, Caringo, Cleverafe, Scality and others
Big Data storage using HDFS, Ceph, and Gluster
Parallel file systems like GPFS (whatever it's called these days
Public cloud storage; Amazon, Azure, etc.
Some mainstream suppliers such as EMC, HP and NetApp, are seeing a downturn in revenues from their traditional arrays. Talking to them individually none have said that they are being affected by competition from AFA and hybrid entrants to the industry. Their own all-flash offerings are growing and their hybrid arrays do well-ish. Yet trad array sales seem to be on a downward trend.
Keep that thought in mind as we look at the newer categories of storage and suggest how they might or might not develop.
It's likely, El Reg thinks, that Big Data will remain a separate storage domain, its scalability needs being so high. Ditto object storage.
However the general SAN/filer replacement space will feature, we think, some degree of boundary blurring as niche suppliers add features to extend their offerings into adjacent segments.
We have seen Tegile offer all-flash configurations and no doubt Tintri and Nimble have the same facility, so their hybrid arrays can compete with AFAs for customers who want only flash.
The SW-only storage suppliers support all-flash and hybrid configurations already. Nexenta is moving into object storage so it can cover that base. We have seen object storage suppliers, who are all SW-led, add filer and cloud interfaces such as S3.
We can say that all customers buy storage SW. With some that's their main focus and the hardware they use, servers and storage shelves, come later. With others the focus is on both the hardware and SW, often indivisible. There doesn't seem to be any significant move by customers towards or away from SW-only storage offerings though.
The pure storage SW players rely on off-the-shelf HW to make their storage systems cheaper than mainstream arrays. To the extent that hybrid array suppliers are cheaper than mainstream arrays they are less susceptible to storage-only SW competition from Nexenta et al: less so the AFA startups but their SW is tuned for flash whereas DataCore, FalconStor and Nexenta offerings are basically disk-based with flash tuning tweaks on top.
Hybrid array HW suppliers, like Nimble, Tegile and Tintri, can also move easily to all-flash configurations. But AFA startup vendors, whose credo is "Disk is bad," will find it hard to hybridise their offerings and add disk. It goes against their marketing messages and engineering culture. So, if customers express a preference for hybrid arrays then the AFA startups will be at a disadvantage, lacking SW features such as automatically tiering data.
But if all-flash is the way to go then the hybrid array vendors who have embraced AFA configs will be less disadvantaged, moving from cheap disk to relatively cheap 3D/TLC flash for bulk capacity and tiering data as before.
Hyper-converged suppliers can go all-flash or hybrid with relative ease
How will we know that the kind of stasis we are seeing at the moment is changing? If vendors in any of the categories above see significant revenue changes, upwards or downwards, then we can start thinking the market might be on the move.
Our estimate is that Big Data, object storage, SW-only storage, AFAs, hybrid arrays and hyper-converged systems will all see growth while trad storage revenues start to decline faster. That's fairly obvious. What happens next is not as the market gets to vote for Big Data, object storage, SW-only storage, AFAs, hybrid arrays and hyper-converged systems.
We think Big Data, object storage and SW-only storage will grow (Big Data the fastest) but AFAs, hybrid arrays and hyper-converged systems will grow faster still. Which way will the market jump in this better-than-SAN/filer area; AFAs, hybrid arrays or hyper-converged systems?
It's too close to call in our reckoning but we think that AFAs may, stress "may", be at a disadvantage as bulk online capacity is not going to move from disk to all-flash soon, and that, if it does, they will need to add auto-tiering SW for data placement.
Perhaps one or more of them is working on that already. ®
Sponsored: Practical tips for Office 365 tenant-to-tenant migration