Malfunctioning Russian supply podule EXPLODES above Pacific
ISS 'nauts miss out on grub, also chance to jettison rubbish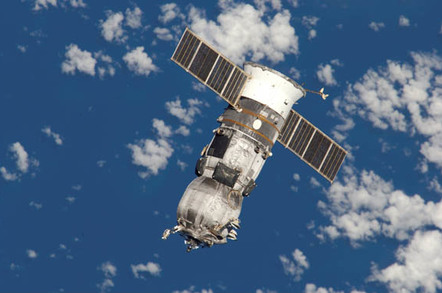 The latest Russian Progress supply podule destined for the International Space Station has burned up over the Pacific, the Roscosmos space agency has confirmed.
Progress M-27M, to give it its full title, ceased to exist at 5.04 Moscow standard time (just after 3am British time) as it entered the atmosphere over the central Pacific Ocean. The spacecraft would have accelerated to around 16,000mph causing the air in front of it to heat up and destroy the capsule … you know how it goes, you've seen the movies.
However in place of some dashing hero this craft was loaded with three tons of supplies, including food, water, oxygen and science equipment for the astronauts on the ISS. But never fear, they have enough to keep them going until the next scheduled delivery.
The pod was in trouble from shortly after launch on 28 April, possibly due to an incorrectly deployed antenna. Roscosmos said Friday that it is conducting an investigation and will present its results "no later than 13 May."
The pod would have been allowed to burn up on re-entry anyway, but without all the goodies on board. The ISS would also have expected to use the Progress' engines for manoeuvres and maintaining the station in orbit while the podule was docked.
It would also have served as a flying rubbish bin stuffed with the ISS' garbage on being undocked and jettisoned into the atmosphere, had it completed its mission. ®
Sponsored: Becoming a Pragmatic Security Leader