T-Mobile prods at corpse of BlackBerry, says 'me too!'
Why not strap ourselves to that hemorrhaging outfit?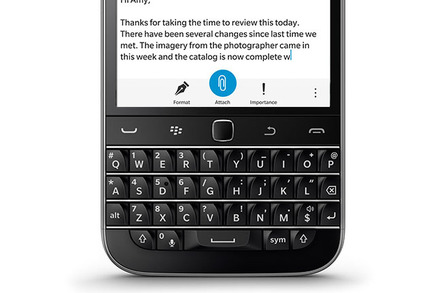 T-Mobile has taken up the cause of BlackBerry, agreeing to offer the fading firm's products in its mobile lineup, nearly two years after it dropped the Canadian's hardware from retail stores.
John Legere, head of T-Mobile US, stayed true to his 'uncarrier' credo by caving to isolated user demand for new models from the Canadian smartphone pioneer.
.@Blackberry is coming to @TMobileAtWork customers on 5/13! #BerryExcitingNews right?! http://t.co/Sfp2FQwf2t pic.twitter.com/IloXWHcm9S

— John Legere (@JohnLegere) May 7, 2015
The deal between the companies will bring the BlackBerry Classic to the T-Mobile network on the Un-Carrier Business plan, offering business customers $15 per line up to 1,000 lines and $10 per line after. Personal users (bless your heart) will have to pay $18.33 per month for 24 months to cover the cost of the handset.
BlackBerry has less than one per cent of the US phone market in the last quarter. Once the leading brand in the smartphone space, BlackBerry (nee RIM) has withered in the face of competition from Apple's iOS and Google's Android.
Nonetheless, Legere feels that partnering up with the dying business is in his best interests.
"People who love BlackBerry smartphones and want to use one on America's fastest nationwide 4G LTE network now have that choice," said Legere.
"Bringing BlackBerry into our device line-up now also stokes Un-carrier 9.0, which is all about bringing the Un-carrier revolution to business."
According to research from Kantar Worldview, T-Mobile is firmly a Samsung outfit. The Korean giant laid claim to 42 per cent of all T-Mobile smartphone sales in Q1 2015.
Despite its tanking in the commercial market, BlackBerry does have some niche diehards. Government users in particular keep a soft spot for the easily secured nature of BlackBerry and its Enterprise Server platform.
"BlackBerry is proud to partner with T-Mobile once again to offer the world's most secure and reliable mobile products and services that encourage productivity," boasted BlackBerry CEO John Chen.
"Whether they are individual users making the most of their day with the BlackBerry Classic, or an enterprise seeking to manage thousands of devices." ®
Sponsored: Becoming a Pragmatic Security Leader