'Tough' UK public sector blamed in BT sales hiccup
Giant telco just waiting on clearance for EE gobble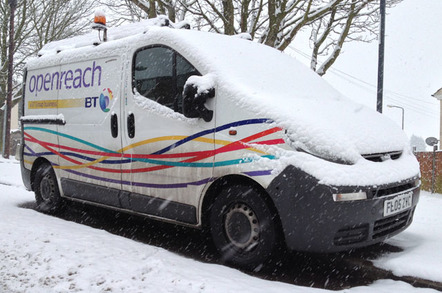 Sales dropped 2 per cent to £17.85bn for telco giant BT's full-year results announced today, while profits increased 12 per cent to £3.17bn compared with the previous year.
The company primarily blamed its drop in sales on the foreign exchange market, while attributing the profit boost to an efficiency and cost-cutting programme. It cited its insourcing of 2,000 roles as part of moves to increase productivity.
On the broadband front Openreach sales remained steady for the year at £1.26bn, however the telco said its fourth quarter had been the "best ever" for sign-ups - with 455,000 new fibre customers.
However, its outsourcing biz BT Global Services fared less well, falling 7 per cent to £6.5bn for the year.
UK revenue was down 11 per cent for the year "primarily reflecting lower public sector revenue," the company said. It added: "We expect further declines in public sector revenue next year."
Gavin Patterson, BT chief executive, said the UK public sector trading "remains tough" but the company is growing in Asia and the Middle East.
BT Consumer - which includes TV and BT Sport - was the only division to grow, with sales up 3 per cent to £1.1bn.
The telco goliath is currently awaiting regulatory approval from the Competition and Markets Authority over its planned £12.5bn acquisition of EE announced in January.
Last week, BT shareholders approved the company's plan to the buy mobile operator.
Patterson described the company's year as "ground-breaking". "[W]e've made some key decisions and announced some major investments to underpin the future growth of the business," he said.
BT has so far incurred costs of £36m in relation to its planned acquisition of EE. ®
Sponsored: Detecting cyber attacks as a small to medium business