Online pizza order saves woman and children from knife-wielding kidnapper
I'd like a pepperoni with extra jail time, hold the drugged-out homicidal maniac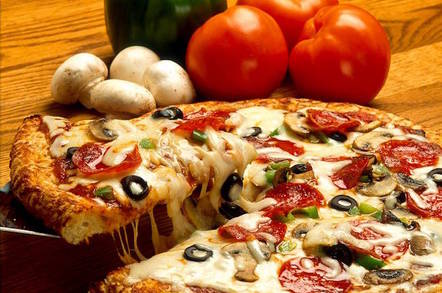 A quick-thinking kidnappee managed to summon the cops using the comments section of an online order for pizza while being held hostage with her three children.
On Monday Cheryl Treadway, 25, from Avon Park in Florida, spent the day arguing with her boyfriend Ethan Nickerson. He became violent, armed himself with a large knife and confiscated her cellphone, before bundling her into a car and picking up her children from school, according to the police report.
On returning to the house Nickerson kept Treadway and her three children prisoner in the house and began taking drugs. Treadway convinced Nickerson to let her order a food for the family from Pizza Hut using her mobile, and added the words "Please help. Get 911 to me," and "911 hostage help!"
"We've never seen that before," the restaurant's manager, Candy Hamilton, told local TV station WFLA. "I've been here 28 years and never, never seen nothing like that come through."
The pizza parlour called the cops, who went around to the residence to see what was going on. The door was answered by Treadway, carrying one of her children, and she was hustled out. Police then tried to negotiate for the release of the other children.
"His first words were, of course, 'I'm not coming out because I know I'm going to jail,'" said Lieutenant Curtis Ludden of the Highlands County sheriff's office.
After 20 minutes of negotiations Nickerson agreed to surrender and the Treadway was reunited with her children. He has since been charged with aggravated assault with a weapon, battery, false imprisonment and obstructing justice by depriving communication to law enforcement.
Ludden praised Treadway for her quick thinking and nimble-fingered request for online help, saying it had helped stop a potentially violent encounter.
"I don't know if I ever would have thought of it. I mean it's just something that she did so naturally. The boyfriend never knew about it until he saw us coming around the corner," Ludden said. "It's moments like these in law enforcement that you get to help people actually that makes you feel good." ®
Sponsored: Becoming a Pragmatic Security Leader