POW: Smut-seeding copyright troll slammed as 'extortionate'
Nonagenerian judge doesn't hold back in assessment of Prenda Law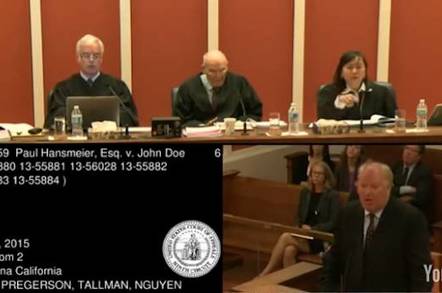 Video Prenda Law – the copyright troll whose exploits included seeding smut onto torrents, seeing who downloaded them, and threatening them with exposure if they didn't pay up as infringers – has been described as "crooked" and "extortionate" by a 91-year-old judge.
The company wants the 9th Circuit Court of Appeals to overturn $237,000 worth of sanctions and fees imposed by prior judges.
Keen to clear its name, Prenda has asked that the previous findings against it be set aside, and is taking the high-risk strategy of asking for a new investigation against it – even though this could land it in a criminal court, with key individuals facing life in prison.
That surprised one of the judges – Jacqueline Nguyen – who said: "I'm just amazed, counsel, that you're asking that we consider vacating the sanctions and sending it back for an independent prosecutor to be appointed and essentially for a criminal-like investigation to ensue".
Prenda's counsel Daniel Voelker replied the client "would like their day in court".
So far, Prenda's appeal (presiding judges Dean Pregerson, Richard Tallman, and Nguyen) doesn't seem to be going well.
The 91-year-old Pregerson described the Prenda Law approach as "a very clever scheme", with offers that would "enable you to avoid becoming a named defendant in our lawsuit," they would "accept a sum of $3,400".
The letters from Prenda Law would include details of horrifying penalties in other cases reaching to hundreds of thousands of dollars, he noted, continuing:
"So here they are. They write to this person who they've identified, and they tell them 'somebody in your household was looking at this porno', and they describe it. They tell them 'your conduct was illegal'.
"It's got to scare the hell out of somebody when he sees that," the judge continued, "then they offer them … you can settle this for $4,000, and we have evidence that one of them bragged about making $15m dollars for your clients.
"I mean, that is just an ingenious, crooked, extortionate operation."
91yo Judge Describes Copyright Trolling
During the hearing, Prenda's lawyer Daniel Voelker was told off for "bobbing and weaving", while judge Nguyen told him he was "swimming upstream".
Voelker's line in trying to get the sanctions overturned is that US District Judge Otis Wright – who two years ago belaboured Prenda Law about the head with Star Trek references – had, by passing information to authorities for criminal investigation, denied the firm and its attorneys due process.
If you have a couple of hours to spare, the full court hearing is on YouTube below. The Prenda case starts at 59:43. ®