It's beers and bacon all round for our Quid-A-Day Nosh Posse
Live Below the Line challenge cracked, good wedge of cash raised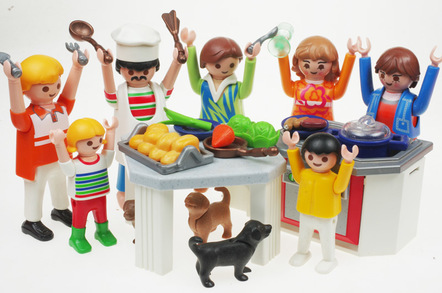 Dietary normality has returned for the members of the El Reg Quid-A-Day Nosh Posse, who last Friday completed the Live Below the Line challenge to live for five days on just one pound sterling a day for food.
Yes indeed, give it up if you will for Neil Barnes and Anita Wegner, Toby Sibley and Rosalind Griffin, Chris Wilkinson, Nathan Dennis, Simon Weston and the Jacob family in the US of A who, along with Posse members at SPB HQ, battled through on a semi-starvation budget to raise a good wedge of cash for Malaria No More UK.
Here are Talis and Zinta Jacob giving it the thumbs-up on the final day, having participated with gusto despite being served on at least one occasion foraged weed salad: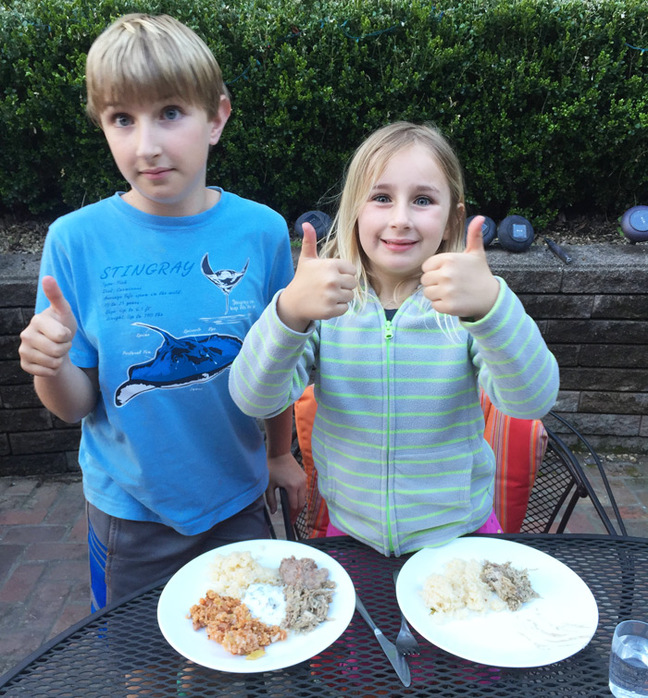 Good show
Dad Richard reported yesterday: "Our last three days were a bit monotonous but we had plenty of food. Even so it causes quite a bit of stress watching the funds go down after every meal and hoping we can eke out all the required food for the last day.
"I didn't feel hungry at any time, peckish maybe but not actually hungry. Still lost a few pounds by the end of the week. The kids seemed fine. The adults did not eat apples all the days so that we would have enough funds for the kids to eat them so we were definitely putting the kid first and cutting back ourselves."
So now you know - no children were harmed during the making of the challenge.
The rest of the Posse appears to have survived in equally fine-ish fettle. Veteran participants Neil Barnes and missus Anita Wegner tucked into a fried breakfast on Saturday, while Rosalind Griffin and other half Toby Sibley travelled to Paris over the weekend to celebrate their wedding anniversary, so fine dining was assured.
In Spain, we enjoyed a coffee and bacon sarnie before hitting town for a few beers, all of which is the proven antidote to five days on chickpea stew, rice and potatoes.
Good work all round, and we offer a tip of the hat to those readers who chipped in to support the cause. An extended tip of a big hat goes to the anonymous benefactor who offered to match all of last Wednesday's contributions (£770 in the end), and proved as good as his word, as you can see here.
There's still time for anyone who fancies improving our already impressive total to whip out the credit card. In fact, the tally is actually already a tad over £200 higher, since Neil Barnes has donated that amount from sales of his "Food For a Tenner a Week" cookbook (and the ePub version) directly to Malaria No More UK.
The Live Below the Line challenge isn't meant to be a true reflection of what it's like to exist permanently on little or no cash, but rather to "deepen understanding of the challenges faced by individuals living in extreme poverty, and to raise vital funds for crucial anti-poverty initiatives".
Well, we reckon we've provoked some thinking - and lively debate - while getting a few quid in the bank for the war against malaria. Thanks to the Posse and our generous readers. ®
Sponsored: Detecting cyber attacks as a small to medium business