Quid-A-Day Nosh Posse chap in 'desperate' cash shortage
Jacobs family down to $1.52 and leftovers as finishing line approaches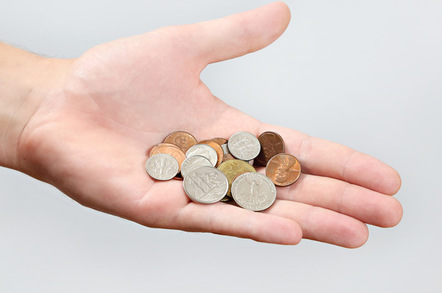 As the El Reg Quid-A-Day Nosh Posse nears the finishing line of the Live Below the Line challenge, Stateside member Richard Jacob reports that he and his family are "desperately short of money", reduced to just $1.52 to fuel them to the finishing line.
It's been quite an adventure for the Jacobs over the last week, and with a couple of kids to feed, Richard had to plan his strategy with a bit more imagination than those of us who simply throw a load a chickpeas into a cauldron, serve that with rice and potatoes, and butch the monotony out.
In the end, though, attempting to provide a balanced diet can exhaust your limited cash resources quicker than expected, leading to a truly challenging final stretch.
Last night's dinner chez Jacob was "pulled pork with tomato sauce, rice and beans", plus the return of the foraged weed salad: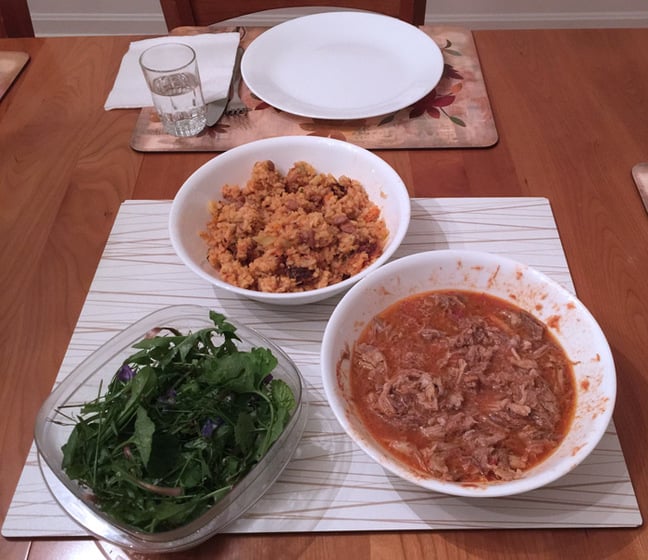 The return of the foraged weed salad
Today, the menu consists of "eggs on toast for breakfast, assorted left over lunches, from jam sandwiches to lentils to pork and rice", Richard explained, adding: "Our evening meal will be re-fried beans, eggs and what ever else is left."
In his last missive before cooking up the leftovers, Richard said: "Wife and I went out to see Ex Machina last night, baby sitting was more than the week's worth of food! Wife suggested stopping for a beer or cocktail; I gave a hollow laugh."
He concluded: "Very much looking forward to Saturday and an alcoholic beverage. Desperately missing vegetables too."
Roger that. Here at SPB HQ, while I could certainly murder a beer, my previous experience of the Live Below the Line challenge – and just how to make sure there's enough in the trough on the final day – means I'll probably have some food left over come Saturday morning.
I've still got sufficient chickpea stew, rice and spuds for four square meals, and a couple of eggs in hand for an extra "treat" this evening.
Mind you, I do envy those Nosh Posse members who've succeeded in getting extra bangs for their bucks. Neil Barnes and Anita Wegner, with typical methodical planning, have spent the week getting their laughing gear around a range of culinary delights, including this lentil and bacon ensemble, topped with chives from the garden: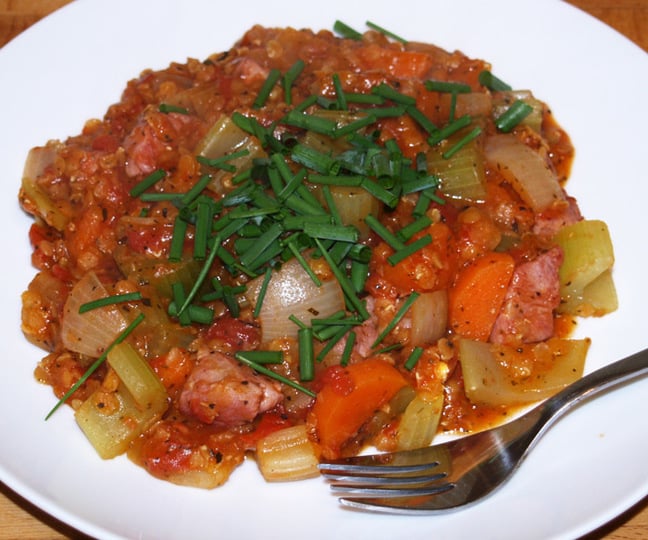 Mmmmmm, bacon...
That meal adds up to £1.07 and 800 calories for two, according to Neil, who expects to have spent £9.16 by close of play.
He told us last night: "I'm a couple of kilos down in weight since Monday morning (Anita refuses to weigh herself until Saturday) but neither of us feel particularly bad on it; I think the decision for fruit and salad was a good one. I could probably manage an extra slice of toast in the morning... cheese and onion pasty tomorrow."
Regarding the rest of the Nosh Posse, Toby Sibley and his missus Rosalind Griffin will complete the challenge later this evening, having started ahead of schedule last Sunday so they can have enjoy some fine French cuisine in Paris tonight as part of their wedding anniversary weekend across La Manche.
Their trudge to the finishing tape involved a leftover lunch on the Eurostar earlier today: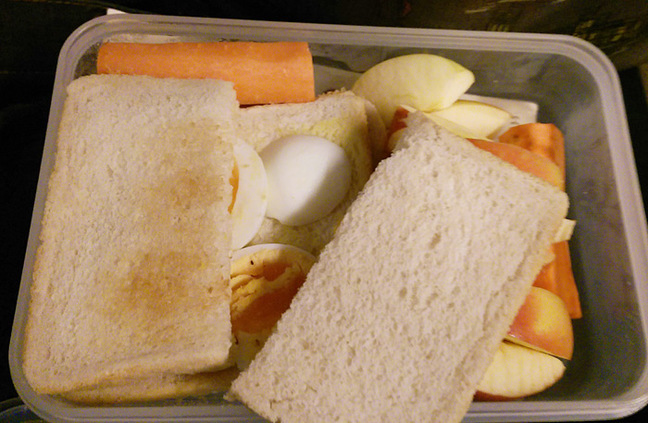 The next stop will be Paris. Alight here for fine French cuisine
Ros said: "We hadn't been too hungry or felt we were missing out until we needed coffee this morning so we're a little weary and looking forward to a blow-out this evening.
"We have learned that whilst it's clearly possible to live on a quid a day it demands a lot of planning and is pretty monotonous. Toby saw a builder with a Gregg's pasty this morning and felt a stab of envy."
We assume Chris Wilkinson and Simon Weston are still alive following yesterday's Quid-A-Day report. Simon was battling through on a diet of mainly chickpeas, enhanced by a few chunks of some "truly shocking" Lidl budget "cheese"
Chris, meanwhile, was holding it together with pease pudding and – despite lack of caffeine – had managed not to murder anyone at work. He assured: "I reckon I've got it cracked, and there's no danger of me 'Doing a Paltrow' :-)"
I'm absolutely convinced that none of the Posse is going to do a Paltrow, so it's kudos all round and extra kudos to the anonymous benefactor who promised to match all of Wednesday's donations to the cause – a total of £767.
While we're dishing out hot kudos, those readers who've shown their support by opening their wallets can help themselves to a serving. Those who haven't yet chipped into the pot can do so here, in aid of Malaria No More UK. ®
Bootnote
Reg contributor Tim Worstall is also invited to dip into the kudos buffet for donating his fee for this quid-a-day piece.
Sponsored: Detecting cyber attacks as a small to medium business