Heroic Quid-A-Day Nosh Posse tighten their belts
Tough going, but the end is in sight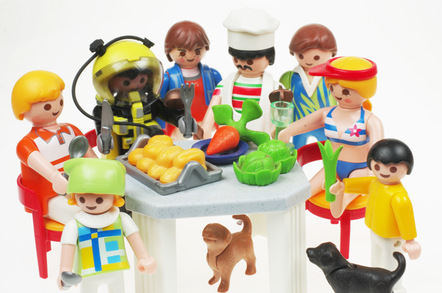 It's day four of the El Reg Quid-A-Day Nosh Posse's five-day Live Below the Line challenge, and while everyone is on course to triumphantly cross the finishing line tomorrow night, it's not all plain sailing.
We've got 13 people tightening their belts in support of Malaria No More UK. I'm doing the challenge for the third consecutive year, and the previous experience certainly helps.
While my diet of chickpeas/rice/spuds is hardly inspirational, it does provide bulk. Not much hunger at SPB HQ, then, but I do find myself increasingly distracted as monotony sets in.
Yesterday, for example I nipped into town, walked into a bar and ordered a coffee (€1.20) without thinking about it. Having cancelled that and asked for a glass of water instead, I was left staring glumly at the spread of tapas laid out on the bar, while contemplating another evening meal of bloody chickpea stew.
A similar fate awaited Nosh Posse members Toby Sibley and his missus Rosalind (Ros) Griffin yesterday, who wrapped their laughing gear round this concoction: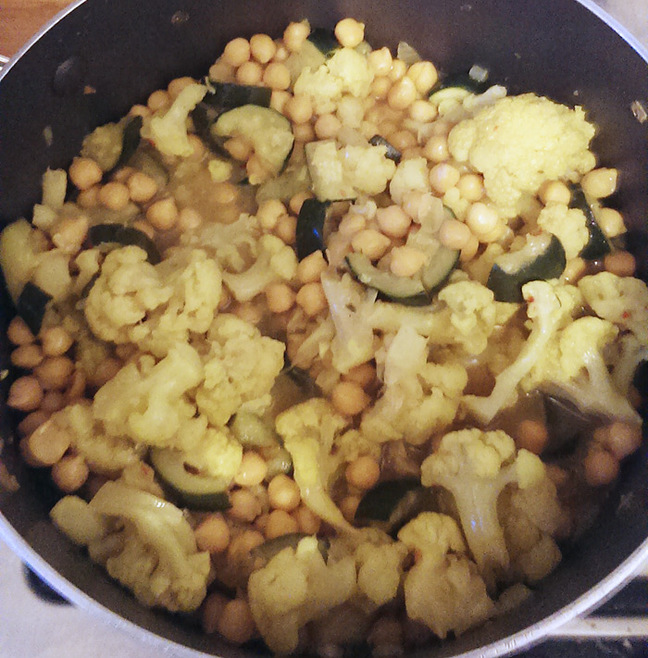 Oh good, chickpeas
Ros said: "So we have mostly been eating chickpeas* as well as porridge for breakfast and some pasta in a tomato and courgette sauce (see Toby's packed lunch below). We're going to switch it up with baked potato and baked beans tomorrow."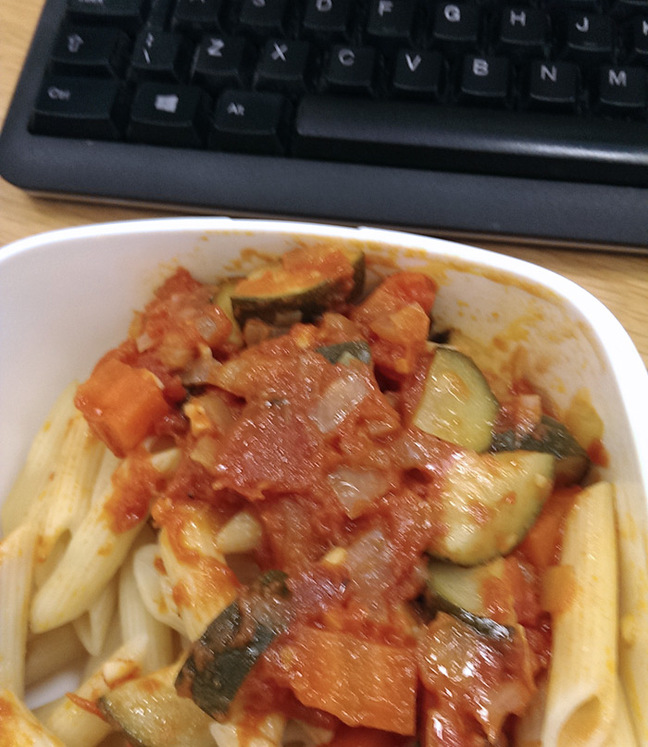 Bon appetite, Toby
Ros noted that the couple are "really looking forward to our romantic weekend in Paris" - a trip to mark their wedding anniversary. They got hitched last year immediately following Toby's participation in the challenge, during which he almost starved to death on 780 calories a day, and staggered to the altar.
We have no pictures as yet of Simon Weston's magnificent repasts, which may be just as well, since his diet consists in large measure of – you guessed it – chickpeas.
Specifically, Simon has knocked up a "chickpea suprise d'Italia", which he says should see him through to Friday although he was "already sick of chickpeas" by Wednesday. We assume the surprise is that the dish is chickpeas without anything else, and certainly nothing even remotely Italian about it.
Happily, he has managed to vary his diet this week with a large omelette (6 eggs), "a handful of frozen mixed veg (sweetcorn, French beans, carrots and peppers), half an onion, and half a potato". As a special treat, Simon indulged in "a few shavings of some truly shocking Lidl 'cheese'".
Nonetheless, mostly chickpeas beckon until blessed relief on Saturday. He concluded: "Cruelly I'm at a friend's house for dinner on Friday night, so while they are indulging in wine and lovely food, I shall be eating my delicious chickpeas from the Tupperware it was just microwaved in. Oh joy!
"I think pigging out at midnight is cheating, I'm measuring this sleep to sleep. But I will definitely eat the entire packet of bacon that's taunting me from the fridge on Saturday morning. Due to possible overdosing on eggs, I'm guessing it will be bacon sarnies."
Sponsored: Detecting cyber attacks as a small to medium business