Apple and IBM foist fondleslabs on Japanese elders in Big Data snatch
They're coming for that sweet, sweet health info. Buy more meds! From us!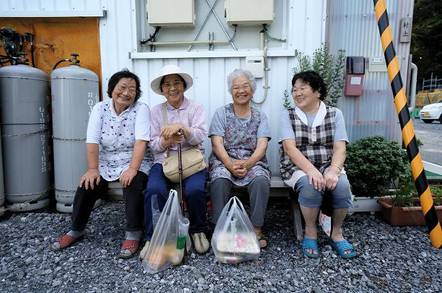 Apple and IBM have jointly announced a scheme under which they will hand out five million iPads to elderly folks in Japan over the next five years and reap a mighty harvest of bigdata thereby.
The two zaibatsu – whose combined names can be rearranged anagrammatically to "Able Pimp" – have teamed up to ensure utter market penetration with a "charitable" initiative, which will deliver iPads pre-booted with special software designed to help the elderly manage healthcare and other needs.
Tim Cook spoke alongside project partners, Japan Post CEO Taizo Nishimuro, and IBM CEO Ginni Rometty, at an event announcing the plan on Thursday.
"We will dramatically improve the lives of millions of people," Cook said.
Japan Post handles postal, banking and insurance services in glorious Nippon, and will distribute the iPads as part of a service that sends workers to the homes of elderly customers to snoop on their wellbeing for a monthly fee.
Apple has an interesting history with IBM, famously outselling them during Christmas 1984. Last year, however, Big Blue/Apple forged a pact to flog its warez to enterprises. Ported apps and back-scratching sends a different picture to the oft-circulated 1983 snap of Steve Jobs, flipping off IBM.
This deal comes on the back of the Big Blue/Apple health data love-in, wherein Jeopardy contestant Watson was hired to crunch the cloudy data from Cupertino's wristjobs.
The fondleslabs will come pre-loaded with bespoke IBM apps, which will provide reminders and alerts about medications, exercise and diets. The program is intended as a pilot, for which Japan's ageing population is considered the primest of guinea-pigs, with 33 million senior citizens in Japan constituing about a quarter of the population – a figure which is expected to rise to 40 per cent in as many years.
Expansion does seem to be on the cards. Tim Cook said that if the pilot were to spread to the US, the project's administration would require a collection of regional companies that Big Blue/Apple would have to cobble together.
Cook has been cool about the opportunities that would arise from the IBM deal. At the event, he cited the benefits of getting senior citizens to utilise an iPad to improve their lives, giving the example of Edith Kirkmeyer, a Santa Barbara woman who – at 107 – is the oldest known person with an iPad. "We'd like more people like Edith out there, that are living well, not just long."
Apple had formerly been contracted to provide $1.3bn of fondleslabs to the Los Angeles Unified School Disctrict, but the deal seems to be off after students hacked the device management systems on the tablets and the FBI opened up an investigation on the district Superintendant who organised the calamitous hand-out.
The Register has contacted Apple and IBM for comment regarding their intentions for the users' health data, and will update if we ever receive a reply. ®
Sponsored: Learn how to transform your data into a strategic asset for your business by using the cloud to accelerate innovation with NetApp