Anonymous benefactor to match today's Quid-A-Day donations
Reg reader will fork out up to £750, so prise open your wallets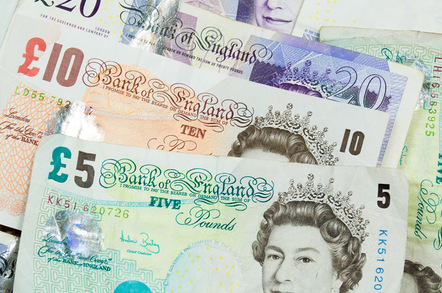 A Register reader who wishes to remain anonymous has said he will match all donations today to the El Reg Quid-A-Day Nosh Posse's 2015 Live Below the Line fundraising total in aid of Malaria No More UK, up to a maximum of £750.
This piece of generosity was apparently prompted by the belief that other fans of Vulture Central have not yet prised open their wallets to a degree which befits the efforts of our 13-strong Nosh Posse, who are subsisting for five days on £1 per day for food.
The challenge isn't supposed to be a real reflection of what it's like to live permanently below the line, but rather to "deepen understanding of the challenges faced by individuals living in extreme poverty, and to raise vital funds for crucial anti-poverty initiatives".
Surviving until Friday on a fiver may not change the world but with your support it will help combat malaria. I've had this most unpleasant of diseases, and last year I explained why I participate in the challenge.
So, if you were thinking of chipping in a few bucks, now's the time to do it, as we reach the midway point of our five-day slog.
The word from the Nosh Posse is that they're bearing up well. I may have to lay off my traditional chickpea stew today, since it's playing havoc with my guts, but there's plenty of rice and spuds in the stockpile so it's no biggie.
We reported yesterday on just how Toby Sibley, Rosalind Griffin, Neil Barnes and Anita Wegner were getting on, and later brought details on Nathan Dennis's cunning fish/veg/rice stew diet plan.
Across The Pond, Richard Jacob and family chowed down on a foraged weed salad, and his kids Zinta and Talis gained some deserved kudos for their efforts in support of the cause.
Here are a couple of snaps of them enjoying lunch yesterday - hummus with carrots and celery for Zinta, and lentils, spätzle, sauerkraut and a 12.5c Frankfurter for Talis: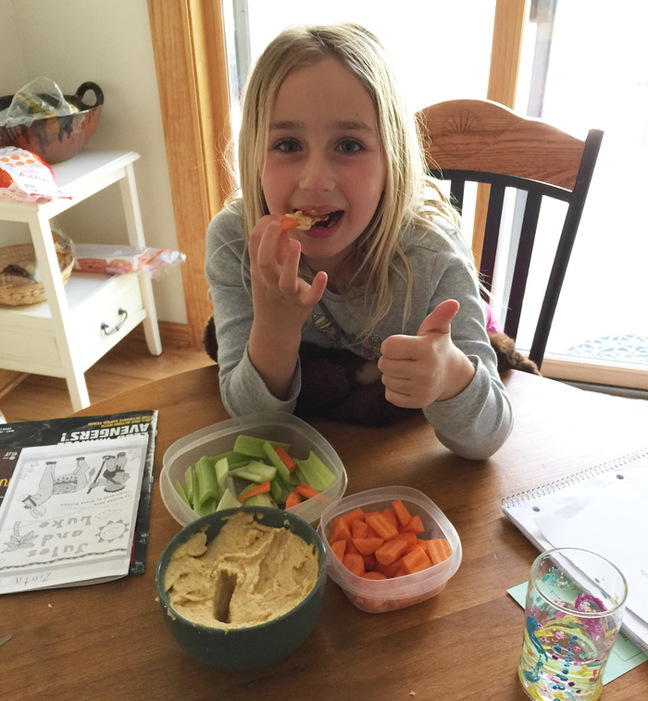 Thumbs up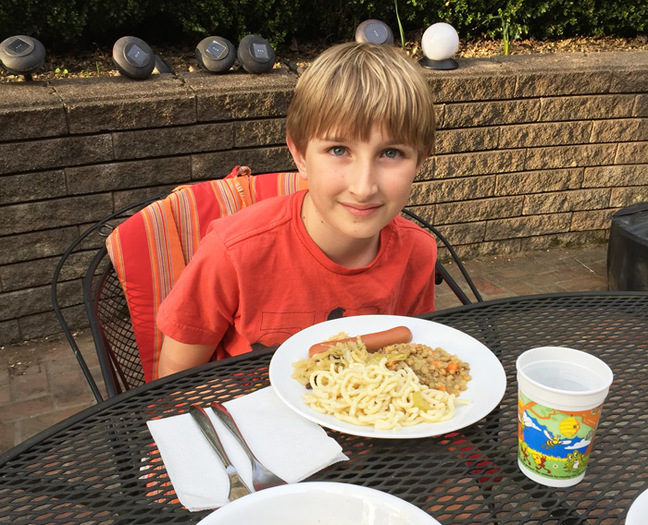 Budget nosh, German-style
Top work. You can make a donation to the Nosh Posse here. Our mystery donor will match all your contributions up to midnight UK time tonight, so get to it. ®
Sponsored: Detecting cyber attacks as a small to medium business