How do you really know if a storage array will perform for you?
When dealing with multi-million storage estates, flying blind is not ideal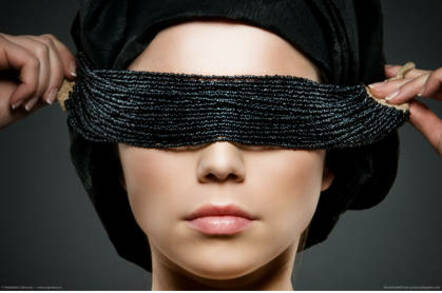 When you have an existing storage array infrastructure with a variety of server apps about to hit the array, how do you know if array technology upgrades or even a new array will work as well or better than the existing kit?
Do you trust your vendor and generalised performance data: It does 450,000 IOPS? This version is 1.3 times the performance of the previous model? Statements like these are not exactly tailored to your particular workload, are they?
The pressures of a limited budget could cause you to under-provision the array, leading to slowed applications. Or you could prioritise performance and over-provision, spending excessive cash.
Do you use Iometer and get involved in scripting and trying to somehow model your existing workload? It's inexact and complicated.
A start-up, Load DynamiX, has written storage array load-generating software that sits in an appliance, models your workload quite precisely and hammers a target array with it so that you can see if new tech or a new array will do what you need it to do.
It's notched up an impressive – and the word is used deliberately – set of storage array customers, who use the Load DynamiX Enterprise software to verify what their own products and technologies can do with the various permutations of accessing system, access protocol, metadata calls, queue depth, random read and writes, sequential reads and writes, read/write ratios, block size, file size, caching, data reduction, scaling to production levels and beyond, and so forth.
Here's a partial list: Alachritech, Avere, CacheIQ, Cisco, Citrix, Cleversafe, Dell, EMC, HP, Huawei, IBM, NetApp, Nexenta, Nexsan, Oracle, Panasas, Panzura, Pure Storage, RedHat, Riverbed, Scality, Skyera, Tegile and Toshiba.
End-user customers are many too, and include AT&T, BNY Mellon, Cisco (again), GoDaddy, PayPal, SoftLayer and others. All in all, it has some 50 customers.
Load DynamiX was set up in 2009 and has had $24 million in funding from two venture capital rounds. Its software runs in Performance Validation appliances:
Virtual Series – 4 port – 1Gbit/s – for ESXi
10G Series – 2-8 ports of 10GbitE
FC Series – 2-8 ports of 4/8/16Gbit/s Fibre Channel
Unified Series – up to 4 x 10GbitE and 4 Fibre Channel ports
Supported access protocols include:
NFS v2, 3, 4 and 4.1
SMB 2, 3 and CUFS
iSCSI
FC/SCSI
HTTP, HTTPS
OpenStack Swift/Cinder
CDMI, S3
The stages of a validation process start with workload modelling, to simulate a production environment's IO profile. Then an array with a particular set of technology has its performance profiled under a range of load parameters that encompass your workload using the appliances.
Put simply, you can use this system to find the performance limits of new storage systems before deploying them into production under a variety of worst-case loading scenarios, using workload modelling. The results can be viewed in tabular or graph form.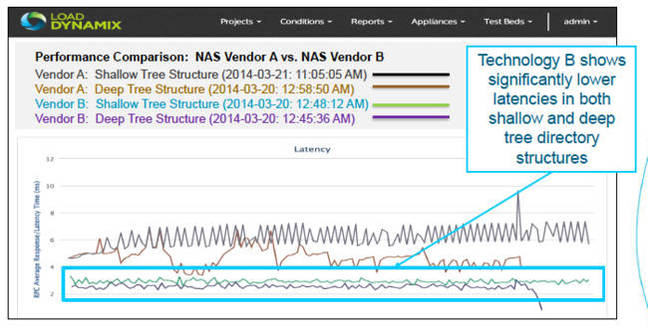 Example Load DynamiX performance chart.
GoDaddy is a Load DynamiX customer. It is the world's largest hosting provider with 11 million customers, 5 million hosting accounts and 54 million domain names under management. It has a 30PB storage estate with 30 per cent annual growth and was looking to verify and validate its storage product and technology choices so as to spend enough money, but not too much. And we're in the millions of dollars level here – the numbers are significant.
It started by using Iometer, but this failed. It couldn't emulate the full scale nor the metadata content of the production workload, so GoDaddy then turned to Load DynamiX and the results were potent.
Here's a chart showing the predicted results of it changing to either of two alternate vendors from the status quo or sticking with technology developments from its existing supplier: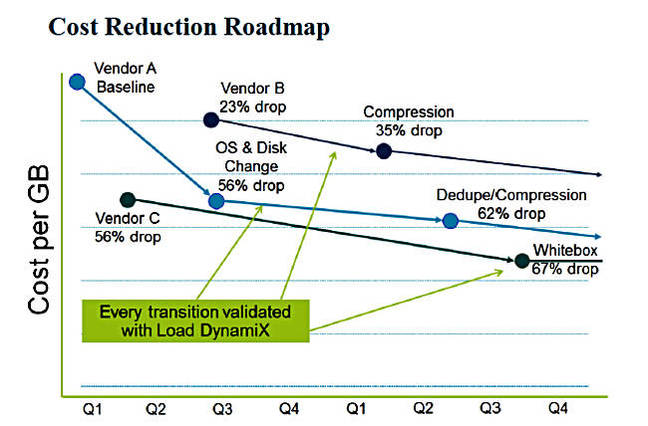 GoDaddy cost-reduction graphic
The existing supplier, vendor A, with its developments showed a 62 per cent drop in costs over 2 years. Vendor B showed a 35 per cent fall – not good enough – while using vendor C would produce a 67 per cent cost drop.
That convinced GoDaddy and Nexenta – vendor C – won the business. Incidentally, it took a week to validate this in the lab instead of taking a gamble and experiencing months in production before the score was known.
Load DynamiX kit isn't cheap, with a starting price at $60,000, but it seems as if it has an unrivalled tool for validating the performance of enterprise storage arrays. Instead of putting a new array tech or new array into production and praying, you could use this start-up's kit to see how it will perform before you make a potentially unfortunate choice. ®
Sponsored: How to Process, Wrangle, Analyze and Visualize your Data with Three Complementary Tools