Quid-A-Day Nosh Posse taunted with sausage sarnie snap
Provocative start to the Live Below the Line challenge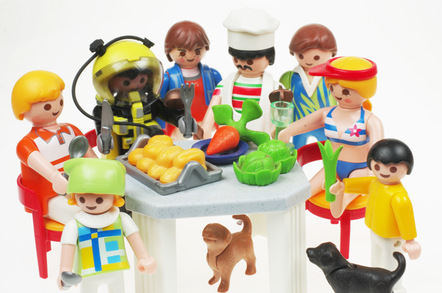 The El Reg Quid-A-Day Nosh Posse's Live Below the Line challenge got off to a provocative start today, as Low Orbit Helium Assisted Navigator (LOHAN) team member Paul "Lord Shax" Shackleton sent over a snap of what we certainly weren't getting our laughing gear round this morning.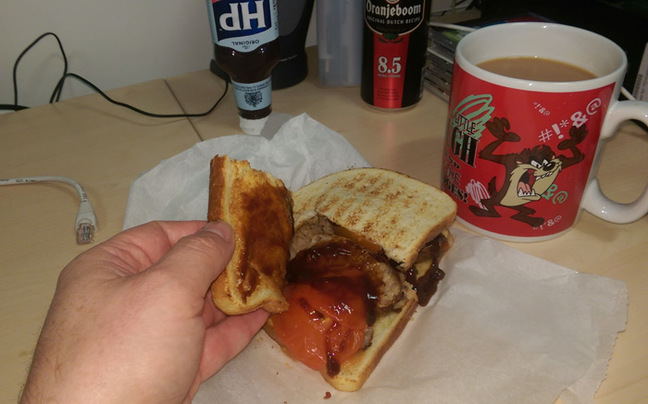 Careful not to choke on that, Mr Shackleton
Yes indeed, we're very much not obliged to Shax on any level whatsoever for sharing his hearty sausage sarnie repast with us as we begin five days on just £1 per day for food.
For the record, the Cat5 cable seen in the photo is where Paul would connect his laptop were he actually inclined to do some real work, rather than photographing his breakfast and quaffing enormous quantities of tea.
Mind you, there's no shortage of tea here at SPB HQ, with budget teabags forming a vital part of the week's supplies. Here's how the rest of a single person's rations stacks up: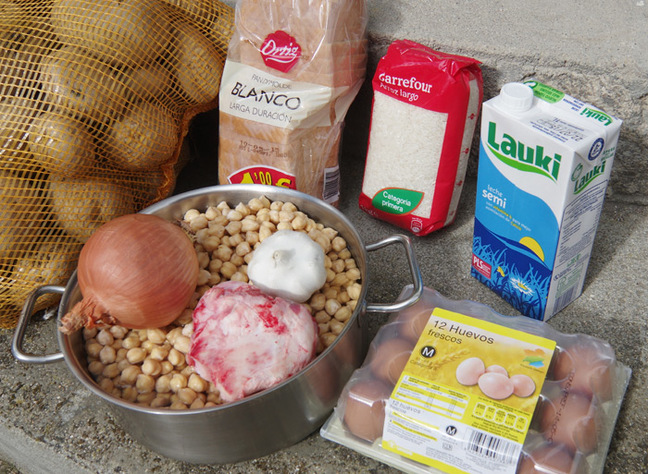 Oh plentiful stodge
As you can see, we're sticking to the tried-and-trusted bulk approach, with 1kg of chickpeas, 1kg of rice, a loaf of bread, a dozen eggs and around 5kg of potatoes, courtesy of a budget sack of spuds. Agreeably, the budget stretched to a few cloves of garlic and an onion, plus a few cents for some herbs and a smidge of olive oil for frying.
So, here's breakfast for the next five days, at the end of which we'll have two spare eggs each for a special Friday treat: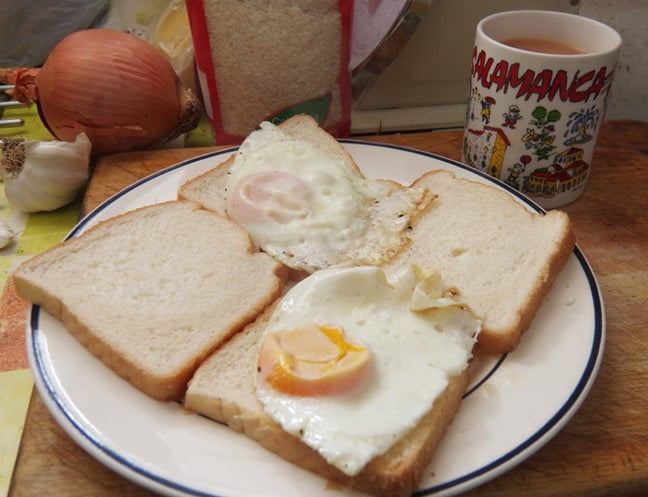 Ah, eggs again. Excellent
The news from the rest of the Nosh Posse is that there is no news from 2014 veteran Toby Sibley, who signed up again at the last minute with his wife Ros Griffin. They started the challenge yesterday due to a romantic wedding anniversary jaunt to Paris next Friday. Hopefully, they're not starving to death on 780 calories per day, and as soon as we have word, we'll let you know.
Fellow 2014 Live Below the Line vets Neil Barnes and Anita Wegner seem to have things under control, having enjoyed a hearty breakfast of homemade muesli with milk and a slice of toast and jam.
Neil reports he'll be having another jam sarnie for lunch, with Anita tucking into carrot, tomato, and beansprout salad. Dinner tonight is spaghetti with tomato sauce, taken from his own tenner a week cookbook (ePub version here). Profits from the sale of both versions go to our chosen charity Malaria No More UK.
For the remaining four days, Neil and Anita's dinners will be fried Camembert with salad, spicy potatoes, bacon and lentils, and cheese and onion pasty with salad.
This diverse spread is evidence of Neil's scientific approach to planning, and here's an extract from his comprehensive spreadsheet showing just how he does his sums (click on the image for more):

On the other side of The Pond, meanwhile, ex-pat Richard Jacob has been equally meticulous, not least because he has two daughters who've been volunteered to participate in the challenge.
After much head-scratching (details here), Richard finally hit the shops and assembled his family's supplies. Here's young Zinta contemplating the stockpile: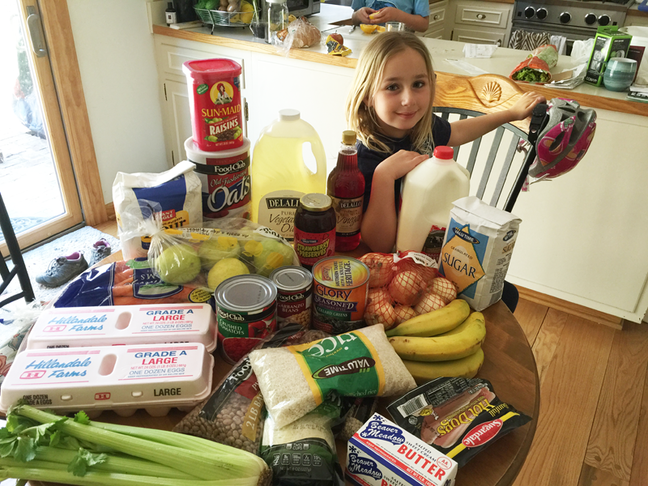 Raisins to be cheerful for young Zinta
Apparently, the young lady is quite pleased with the raisin element of the stash, which will be used in oat bars and porridge. In common with Neil, Richard prepared a spreadsheet to help with planning:

What doesn't appear therein is the Jacob homage to Gwyneth Paltrow, who recently failed to to survive for seven days on $29 for food as part of the #FoodBankNYCChallenge.
Paltrow blew part of her budget on some cut-price limes, and not to be outdone, Richard has managed to squeeze a few of the citrus fruits from his $1.50 per day per head: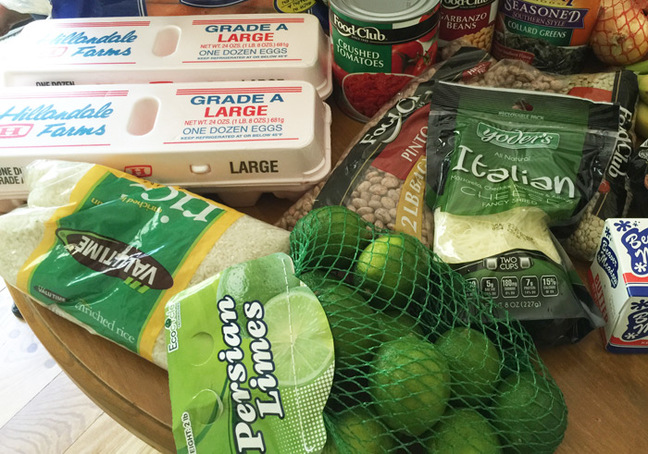 Suck on that, Paltrow
He said: "Limes are $0.37 each. I hope that we can make a couple of caipirinhas with a shot of super cheap cachaça or white rum or similar, a lime and a spoon full of sugar on the Friday night."
If you believe that extracting a bit of alcohol from a quid a day is pushing it, then look on in wonder as Chris Wilkinson back on this side of the Atlantic prepares to quaff no less than two bottles of homebrew wine (one apple, one elderberry), which he says cost just 15p each, as follows:
Apples – free windfalls
Sugar – £3.42
Camden Tablets – 8p
Yeast – 80p
This made 24 bottles, giving 14.9p/bottle
Fair enough. Chris's dinner menu for the week is mackerel and brown rice, jal freyzi, beetroot soup, mackerel and brown rice (again), and finally veggie shepherds pie. Here's his basic stockpile, excluding the vital beetroot element, since they're still in the ground awaiting extraction: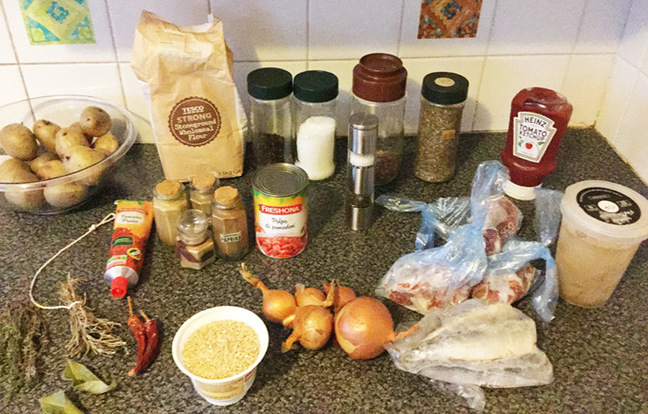 Right, crack a bottle of elderberry and we're in business
Chris's final budget breaks down thus:
Bought in:
Mackerel – £1.15 for 10
Bacon 3/5 of a Sainsbury's Basics cooking bacon pack – 69p
Garlic bulb – 30p
Root ginger – 11p
Spuds – 50p
Carrots – 25p
2 bananas – 21p
From the store cupboard:
Brown rice – 30p
Wholemeal flour for chupattis – 30p
Yellow Split peas – 53p
Tomato purée and sauce – 30p
Assorted spices, salt and pepper – 10p
From the garden:
Onions – 5p
Beetroots – 9p
Chillies – 1p (for the compost, grown from saved seeds)
Rosemary, thyme and bay leaves – free.
Chris noted: "The eagle-eyed among you will realise that this comes to slightly over a fiver, but there will be two of us dining on Friday."
Say no more. All of this tremendous effort is in aid of the aforementioned Malaria No More UK, and we invite readers to flash the plastic in support of our magnificent Nosh Posse right here. ®
Sponsored: Detecting cyber attacks as a small to medium business