TWO-FACED Facebook: Vid calls slapped into blabber app
Talking to people over the internet, it's like, well, it's like, what's its name...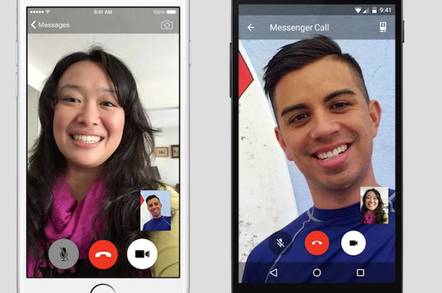 Ad platform Facebook has added vidcalls to its Messenger smartmobe chat app – bringing it in line with Apple's Facetime and Microsoft's Skype.
A little video camcorder icon should appear in the application; tapping that should start the vid session between you and your friend. It works between iOS and Android phones, and is free – although, obviously, you must pay for any mobile data you use.
Messenger is used by 600 million people globally, we're told, but the video-calling feature isn't available worldwide just yet.
"Video calling in Messenger is launching today for people on iOS and Android in Belgium, Canada, Croatia, Denmark, France, Greece, Ireland, Laos, Lithuania, Mexico, Nigeria, Norway, Oman, Poland, Portugal, the UK, the US and Uruguay. We'll be rolling out to other regions and locales over the coming months," noted Stan Chudnovsky, head of product for Messenger, and Param Reddy, engineering manager, said in a canned statement.
Facebook, which also owns lunch-brag app Instagram and lunch-organizing app WhatsApp, just reported a revenue boost and a profit drop for the first three months of 2015.
"Messaging is a big priority for us," said CEO Mark Zuckerberg last week, stating the blindingly obvious. The whole thing is designed for people to shout about their lives at each other – and now you can do it face to face. ®