Golem: Prominent plasticine phallus caught in tech consumerist nightmare
This ain't no Morph, dear readers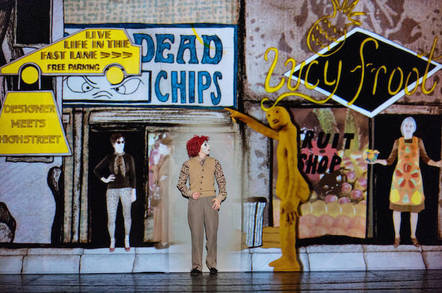 Theatre Review Golem, coming straight from a critically acclaimed run at London's Young Vic, presents us with a modernist cautionary tale of mass media manipulation and conspicuous consumerism.
Foremost in my mind on attending this show produced by multi award-winning theatre company 1927 – well-known for its visually arresting performance style – is how it could compare to my recent visit to Alice's Adventures Underground.
On hearing it is a loose interpretation of Gustav Meyrink's hallucinatory disjointed narrative novel Der Golem, I suspect I might spend another weekend left questioning my mental stability.
Golem, like a Tim Burton film or Alexander Rodchenkco collage come to life, is a 90-minute display of Jan Švankmajeresque animation, pop punk/hipster drum driven live music and satirical storytelling mashed up into a modern Aesop's Fable for the twitteratti generation.
The story – brought to the stage by Suzanne Andrade and Paul Barritt – follows happy, if underachieving, nerd Robert Robertson who lives with his grandma and older sister Annie, lead singer of basement pop punk band Annie and The Underdogs; she sports a vinyl single as a hair piece.
We witness Robert's transformation, under the watchful eye of his newly acquired Golem, from data entry clerk at the Binary Backup Dept to misguided faddy fashion follower and lad about town.
The production is full of extraordinary and compelling visual devices and eye candy. The illusion of movement created by a scrolling background used on Robert's journey through town, once all Aspic and Absinthe, is particularly stunning. It's soon replaced by match-making shop Go Courting and rapidly an after-work flirting session at The Pig and Pistollier is no longer de rigueur.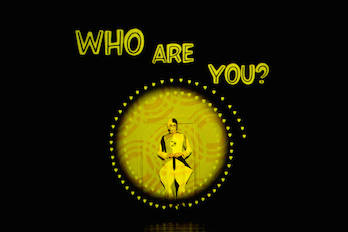 Crude clay turns cray cray as consumerism bites
Golem is the only fully-animated character in the production and is introduced as an innocent helpful clay automaton but, with excessive exposure to late night television, swiftly followed by an upgrade to Golem 2 and finally Golem 3 (thankfully now minus his prominent plasticine phallus), his presence becomes less helpful and increasingly pushy.
Suddenly Robert is no longer in control and is instead driven by an overwhelming urge to consume and succeed – no matter what the cost to friends and family. Sound familiar, Steve Jobs? Apple fanboi's beware: this is a vision of your dystopian future. "A High Definition human race ruled by a Soft Focus government". Cleverly, 1927 even manages some well placed visual digs at London's bumbling, recumbent Mayor BoJo.
Eventually, even Annie and the Underdogs fall foul of this technological encroachment as it becomes a sort of Kraftwerk version of their formally anarchistic selves. This is a captivating social parable that keeps me spellbound throughout.
The juxtaposition of crude clay animation and stylised digital projection as a backdrop for the actors' exquisitely timed and placed performances is hypnotising. Each performer plays multiple characters made individual by exaggerated facial expressions and vocal fluctuations. Indeed, they become so endearing that their assimilation into blahware industrial complex is that much more distressing for the beguiled audience.
Golem is distinctive and edgy enough to leave me and my companion disappointed not to find Annie and the Underdogs' T-shirts for sale at a merch stall afterwards.
This performance is a must-see, magical, multidisciplinary production. ®
Golem, created by 1927 Trafalgar Studios, 14 Whitehall, London SW1A 2DY, runs from 14 April to 22 May 2015. Tickets: £45. Box Office: 0844 871 7632.
Sponsored: How to Process, Wrangle, Analyze and Visualize your Data with Three Complementary Tools