Apple Watch: Exactly how many vids does it take to teach a fanboi to tell the time?
10 ... the first one explores how to wait for delivery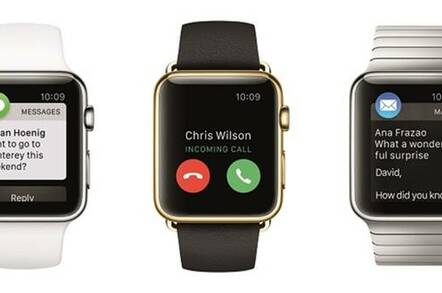 A mini-series of tutorial videos has appeared on the Apple website, giving step-by-tap instructions on how to use the new shiny wristjob.
All the videos have the same super-high Apple production quality and patronising voice-overs, telling you things like "to read the time you don't even need to switch it on".
In the message video you are told to "raise your wrist" to see a message: not quite as inane as it sounds, because it makes the watch show an incoming message. It does mean that if you wanted the watch to tell the time you'd have to exit the message. But that's OK, you never have unread email waiting, do you?
The "Faces video" says that it's "easy to make the watch look however you want", meaning you can change the display. There are configuration options, but really the video should say it's "easy to make the watch look however Apple wants", because there are no tools to upload backgrounds or build your own watch app.
So, if you wanted your Apple Wristjob to look like a Tag Heuer Monaco or Cartier Tank Watch, forget it.
"Of all the ways to interact with Apple watch, Siri might be the quickest and the most fun", one of the videos suggests. Or, if you are the person sitting next to the Watchoid on the train, the most intensely annoying.
You only get all ten tutorial videos at the US site. In the UK it's seven, with two "coming soon". The UK doesn't get the Apple Pay video, for obvious reasons, while "Activity" and "Workout" launch in the US first, because Americans are so much more athletic than Brits.
Also, don't imagine that Apple Pay is ever going to be useful for bonking on the Tube. You will need to double click on a button and then swipe to choose your card before you can awkwardly present the face of the watch to the card reader, so be ready for a queue of angry travellers behind you.
We contacted a couple of first-day customers but they were busy watching the tracking information to see when the courier was due to arrive with their watches. One said the only quote he could offer was "where's my bloody watch?"
The other said he'd been to try them on, and thought the quality feel was excellent and that the stainless steel felt a bit better than the aluminium, but that the pricing difference was more to do with Apple's premium strategy than the cost of metal.
Ultimately, you need a video boxed set to work an Apple watch because the combination of buttons, jog dial digital crown, swiping, standard and firm presses are a UI nightmare.
How the UI behaves also depends on what the watch or your iPhone is doing. Swiping up will do different things if the phone is playing music or the phone is running maps. ®
Sponsored: Detecting cyber attacks as a small to medium business