Yahoo! sees! profit! and! shares! fall! as! earnings! missed! - save! us! Japan!
Oyasumi nasai Vienna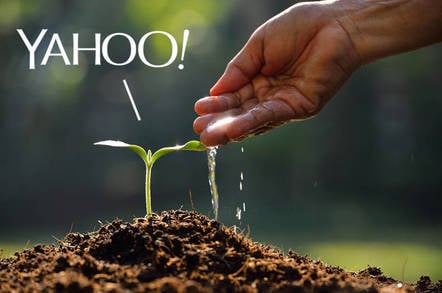 A first quarter earnings report from Yahoo! revealed the company had missed its revenue forecast again, prompting a share price fall for the once great tech company, and increased talk of stake sales.
Results for the quarter ended 31 March 2015 showed an "encouraging revenue growth of eight per cent, with display revenue growing a modest two per cent," said Marissa Mayer, the company's CEO, in a statement.
"For the next phase of the transformation, we will focus on accelerating our GAAP (generally accepted accounting principles) revenue growth while managing our margins and costs," she assured anyone who would listen.
However, adjusted EBITDA (or earnings before interest, taxes, depreciation and amortization, a key business metric) for the quarter was $231m, down from $306m in the year-ago period.
Net earnings were just $21m, compared with $312m a year earlier.
Shares initially dropped by about two per cent before Mayer spoke out about cashing in the company's almost 40 per cent stake in Yahoo! Japan (possibly worth up to $9bn), after which the price rose slightly.
Mayer, who has presided over several acquisitions and product revamps, all of which have failed to result in long-term revenue growth, told investors in a conference call on Tuesday that advisors are being hired to evaluate the company's options with regard to the holding.
However, should Yahoo! decide to progress with the cash-in, the event will form no part of the planned sale of its 15 per cent Alibaba stake, thought to be worth around $40bn.
Yahoo's presentation revealed that in a bid to cut costs (and boost revenue), the company recently shed 1,000 jobs.
The company continues to receive calls to further reduce the size of its workforce in attempts to aid its profitability, although it seems nobody is calling for Mayer to vacate her position.
Retention of veteran talent at the company is being questioned too, following Yahoo's claim that more than half of its current full-time employees are new to the firm.
Yahoo managed to usurp Google as the default search provider within Mozilla's Firefox browser late last year. ®