Platform games
Platform dominance could be addressed. The past decade has has seen a power shift from producers (traditional media and entertainment industries) to distributors like Amazon, Apple and Google, who set the terms of trade. They take advantage of network effects and scale. The e-Privacy directive could also be extended to services companies like OTT players.
The Audiovisual Media Directive (Ofcom guidance here, PDF) could be revisited to include user-generated platforms.
Google gets thrown a bone, however, with a data mining and text searching copyright exception.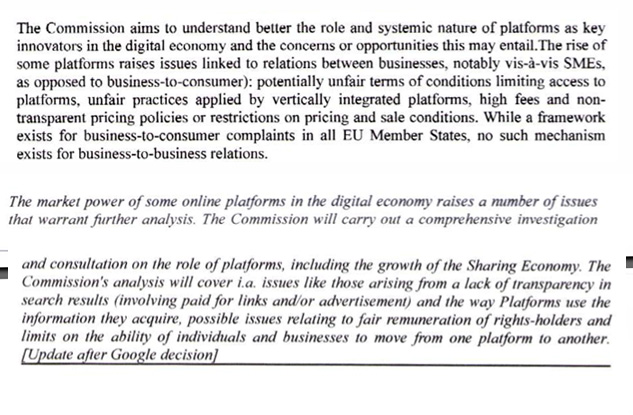 Digi-bureaucrats: You thought you didn't need them?
New bureaucracy and spending is on the cards, too. Lots of it. To reach the target of 30Mbits per sec for all requires €21bn of taxpayer funding.
Previous EU tech funding initiatives include throwing money at Symbian long after everybody had stopped using it.
The biggest winners look like the digi-bureaucrats in Brussels: there will be more of them, with more "work" to do:
The European Structural and Investment Funds can be strategically used to encourage the transposition of new legislation and the development of administrative capacities for an effective implementation of Digital Single Market initiatives for all EU regions.
All this should ensure a new generation of digi-bureaucrat. But in case anyone misses the point, the draft emphasises the need for:
The support of dedicated advisory and support groups, including a new National Digital Single Market Coordinators Group as well as specific events.
Technically known as "junkets".
DG-CONNECT also gives itself new work monitoring it all.
E-Government initiatives in the public sector will have to follow a new top-down EU-wide set of rules. The "European Interoperability Framework" should be mandatory, say the robo-elves. So that's all good then. With so much new regulation in place, and so many new bureaucrats box-ticking, Europe will surely be the most competitive and dynamic economy in the world.
Ansip's official plan for a Glorious Digital Future is expected in early May. ®
Sponsored: Webcast: Ransomware has gone nuclear